These new $250 headphones are designed to help you sleep
Bose are finally releasing their specially designed 'sleepbuds' after years of design, development and testing. The sleepbuds play relaxing sound to block out unwanted noise, rather than playing your music, and they're also Bose's lightest ever product at 1.4 grams.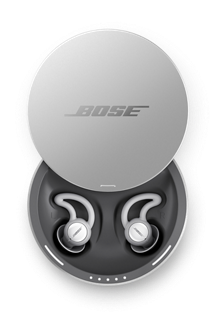 Released today and available on Amazon, many will be surprised at the limited nature of the product which is unable to play anything other than the selection of sleeping soundtracks. Many more will be surprised at the price tag but, typically of Bose, this does seem a highly engineered product.
That light weight is important as the sleepbuds are designed to feel weightless in your ears. Equally the headphones are so small and streamlined that you won't find your pillow pushing them further into your ear. In short, they don't have the typical discomfort of sleeping in headphones.
The sleepbuds run via a mobile app which also allows you to set alarms. But don't worry, it's library of relaxing sounds will be updated so you don't have to fall asleep to the sound of the same wave lapping on the same sea shore every night.
They seem to be a potentially over-engineered solution to a niche problem. However the importance of sleep means that if this particular solution does work for you, it might even be worth the price tag. Equally if this Bose product is marketable and sells well competing designs will eventually make way for rival 'sleepbuds'. This would make them cheaper and more accessible.
Will sleepbuds ever become a common high street buy? Watch this space.
TRENDING
TRENDING CHANNELS
Ranking:
Articles: 29
Reads: 178391