TV Review: Designated Survivor (Season 2, Episode 17)
The moral and ethical complexities of this situation, and the evolution of Kirkman's character are what make this hour a great one to watch.
Last episode ended with Kirkman confronting the Kunami ambassador after the dirty bomb was traced back to them; 'Overkill' picks up with the President addressing the American people and announcing that the United States were going to war.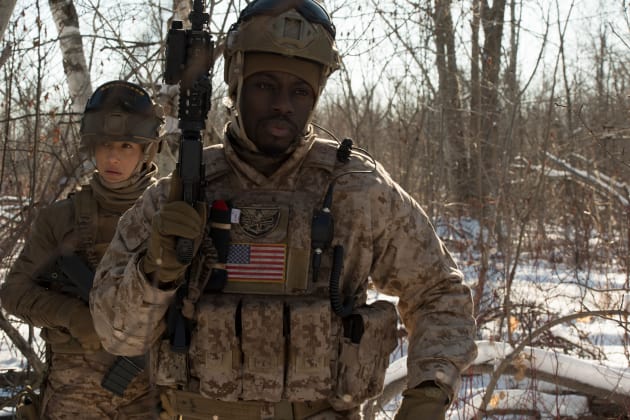 What was fascinating about this episode wasn't necessarily the plot itself, but rather the way it demonstrated just how far Kirkman has changed since he lost Alex. No matter who, out of the people he most trusted, questioned his decisions and pushed him to re-evaluate his actions, he stood firm on his decisions.
Even as more evidence came forward that should have made him reconsider his words, he would not waver. Even when it came out that an American missile had hit a civilian hospital and killed hundreds of people, he continuously advocated for sustained air strikes.
It turned out that Kirkman had been wrong. Hannah, for some reason now out on Kunami ground with a SEAL team, discovers that it was the Kunami ambassador, not the emir, who had set up everything and framed the Kunami leader, so that he could rule in his stead. Kirkman had therefore been bombing this country for an attack it wasn't truly responsible for.
Article continues below...
More stories you may like...
Yet, disturbingly, the writers ensure Kirkman doesn't have to be the bad guy. By some stroke of luck, the SEAL team discovers bio-weapons buried underground that the emir supposedly planned to use against his own people. Somehow that was justification for Kirkman's decision to bomb the country under false intelligence.
The writers would like the audience to be okay with the fact that Kirkman went off the rails and was responsible for the loss of innocent lives, just because he fell into being right. He needn't face the consequences, and everything is supposed to be all right. Kirkman remains untainted in the eyes of the people. It sets an alarming precedent indeed.
What is the point in developing moral ambiguities in Kirkman's character, and to show him making questionable and rash decisions for the wrong reasons, if by the end of the hour all his actions are forgiven, simply because the writers employ a weak deus ex machina?
All this drama leaves only Damian (yeah, he's apparently allowed to run point on an operation despite being a traitor and murderer) and Chuck (who has no problem calling out Aaron for Damian's continued presence) to deal with the whole hacker conspiracy. Turns out someone going by 'Gamine' is their hacker. The reveal doesn't feel particularly triumphant given everything else that's going on this episode.
This whole season's been a bit of a mess, and devoting three episodes to this whole Kunami conspiracy, without any sign that it will tie in to the hacker plotline, makes it all feel disjointed and unplanned. Will there be a bigger picture revealed, or has this all been yet another set of red herrings?
The hour ends with Kirkman's therapist's notes being leaked. Hopefully this brings more heat on his mental state and ensures Kirkman faces the consequences of his decisions. 'Overkill' may have been a strong episode in terms of entertainment, but the writers must stop excusing Kirkman's terrible behaviours with too-neat solutions.
Designated Survivor
is available to watch on Netflix, with new episodes arriving weekly.
TRENDING
TRENDING CHANNELS
Ranking:
Articles: 29
Reads: 202390