Dame Maggie Smith speaks about her career in film and television
After an introduction of old colleagues and friends speaking of her skills, Dame Maggie Smith was brought on to the stage at the BFI Television Festival.
For a lot of us, she is Professor McGonagall from the Harry Potter movies first and foremost. From there she became the Dowager Countess from Downton Abbey and The Lady in the Van, among other iconic roles.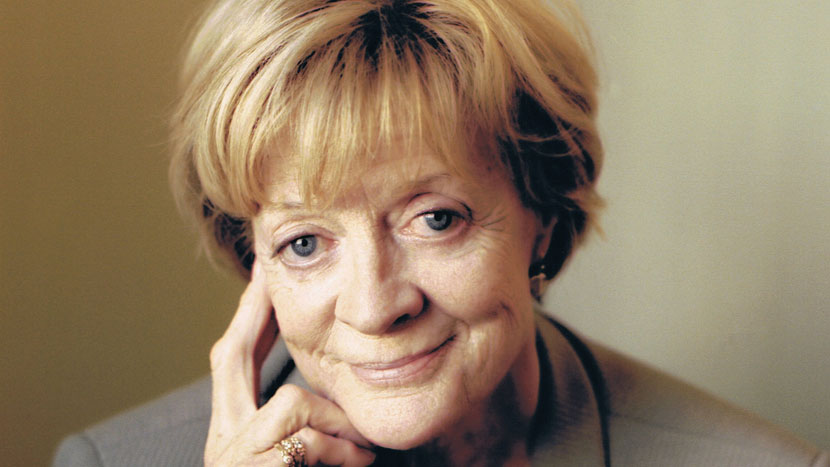 Maggie Smith has been in the acting world since the end of the 1950s and has taken roles both in movies, television and the theatre.
She started in comedy, a show known as REVUE, which was a kind of early sketch show that involved the quick transitions from one character to another. Maggie said: "I used to do quite a lot of plays. There was an Oxford REVUE that went to the Fringe, and from there I went to Broadway. A bit of a shock."
Whilst some actors might say that acting was the career they always thought they would do, Maggie Smith's first approach to acting wasn't so clear cut. "I didn't go to the theatre. I wasn't aware of it at all as a child. I can only think it must have started at school with the English teacher I had, who encouraged me because I was so fascinated," she mused.
"I don't know where it came from. Maybe my brothers? They always made me laugh. They used to do amateur dramatics with Ronnie Barker (one-half British comedy duo, the Two Ronnies) and they did a production of Hobson's Choice and I remember listening to the lines that my brothers were trying to learn and thinking 'what's the problem?' because I learnt them all so swiftly."
Above: Maggie Smith as Professor McGonagall on Harry Potter and The Philosopher's Stone, 2001.
This natural skill coupled with the expectations of the time that Smith was just starting her career meant that she never attended drama school: "I often think I should go and find out what they're being taught – it would be a good thing to know."
Despite this skill and decades of practice, she is just as susceptible to nerves and embarrassment as we all are. One of the first things she announced was her distaste for watching herself acting, whether it be in a playback on set or at a premiere of her work. "I think it's because you can't do anything about it," she reasoned. "At least in the theatre you can go – 'oh, I'll give it another go tomorrow night' - but it's forever [on screen]. You always think – 'why on earth did I do it like that?' And there's no going back."
Dame Maggie was asked about whether she enjoys the process of acting in film, considering her misgivings for the permanent feeling that the media gives her: "It all depends. On who you're acting with, who your director is. Sometimes it can be joyous and other times it can be like torment – and you think 'what on earth am I doing? Let me out of here.'"
Above: Dame Maggie Smith and Bob Hoskins on the set of The Lonely Passion of Judith Hearne, 1987.
An example of one of the harder parts of the filming process that she gave was from the set of Harry Potter. She stated that she found it quite difficult to come out "bright eyed and bushy tailed" after being stuck in a trailer in the middle of the snow for weeks on end with "that silly hat on my head. It just made you think, 'what's the point?'"
However, when asked what the best film to work on was, she responded, "[The Lonely Passion of] Judith Hearne, because Jack Clayton was a terrific director and for the first time I thought I was working with the director. Often, they're very remote people. But I felt very involved with Jack and it was the first time that had happened. He took great care and he was an extraordinary man."
Dame Maggie Smith is an incredibly witty woman who lands her lines instinctively and had the viewing room in fits of laughter from beginning to end.
TRENDING
TRENDING CHANNELS
Ranking:
Articles: 15
Reads: 15828