Durham students cancel miners themed social following backlash that it 'mocks working class people'
A student rugby club organised a 'disgraceful' miners' strike-themed event which mocked working-class people.
Members of the Trevelyan College rugby team at Durham University were asked to attend the Backs vs Forwards social event dressed as miners or members of Margaret Thatcher's government.
Describing the miners theme, the Facebook invitation said: "think pickaxes, think headlamps, think 12% unemployment in 1984".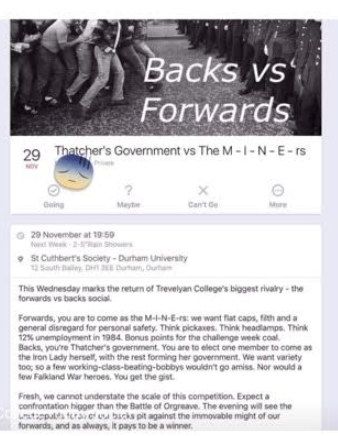 The student organisers were forced to cancel the event after widespread criticism.
Hi @durham_uni just wondering if you condone this kind of insensitive behaviour - your uni sits at the heart of a former coal field.... pic.twitter.com/EgsdpAgt6n

— Craig Dawson (@dawsoncraig) 25 November 2017
This is a really good example of how removed from the local community Durham Uni is.
Majority of students there are imported from the rest of the country, stay in Uni bubble for 3 years then leave again.
Most (not all) never engage with the wider area. https://t.co/6eaO7mpNsd

— Antonio "I promise I'm not a Russian bot" Bonanza (@AntonioBonanza) 26 November 2017
Pro-vice chancellor Owen Adams said:
"Durham University and Trevelyan College utterly deplore this event.
"We are speaking to those students and we are considering what further action to take in due course."
The event has upset local people, the area around the university has a long history of coalmining and during the miners' strike of 1984 to 1985 there were frequent clashes between miners and police.
"We were appalled to learn of a social event advertised by Trevelyan College rugby club which referred to miners in incredibly derogatory terms and sought to trivialise the police violence at Orgreave," Durham Miners' Association said.
They added: "Unfortunately, this episode has caused a great deal of hurt and anger for many in the local community who are rightly very proud of their mining heritage."
Durham University posted a statement on their website last night explaining how they will seek to educate students about the history of the local area.
"Durham Miners and the city's University will work together to educate students in understanding the heritage and culture of the county in which they study. "Miners leaders met with University Vice-Chancellor Professor Stuart Corbridge today (Tuesday 28 November) to plan an education programme which helps incoming students understand the history and tradition of the Durham coalfield. "The Durham Miners' Association (DMA) will help the University to structure a student induction programme which includes an understanding and appreciation of the county and its people."
Article continues below...
More stories you may like...
DMA Secretary Alan Cummings said: "We accept that the rugby club was acting in ignorance and they genuinely regret for what they have done. We should all learn lessons from this episode."
TRENDING
TRENDING CHANNELS
Ranking:
Articles: 29
Reads: 202313