10 Underrated Songs by Bruce Springsteen
A year on from the preview performances of Springsteen's intimate one-man show on Broadway, the man is still pouring his heart out five nights a week. To say 'The Boss' is still going strong would be a gross understatement.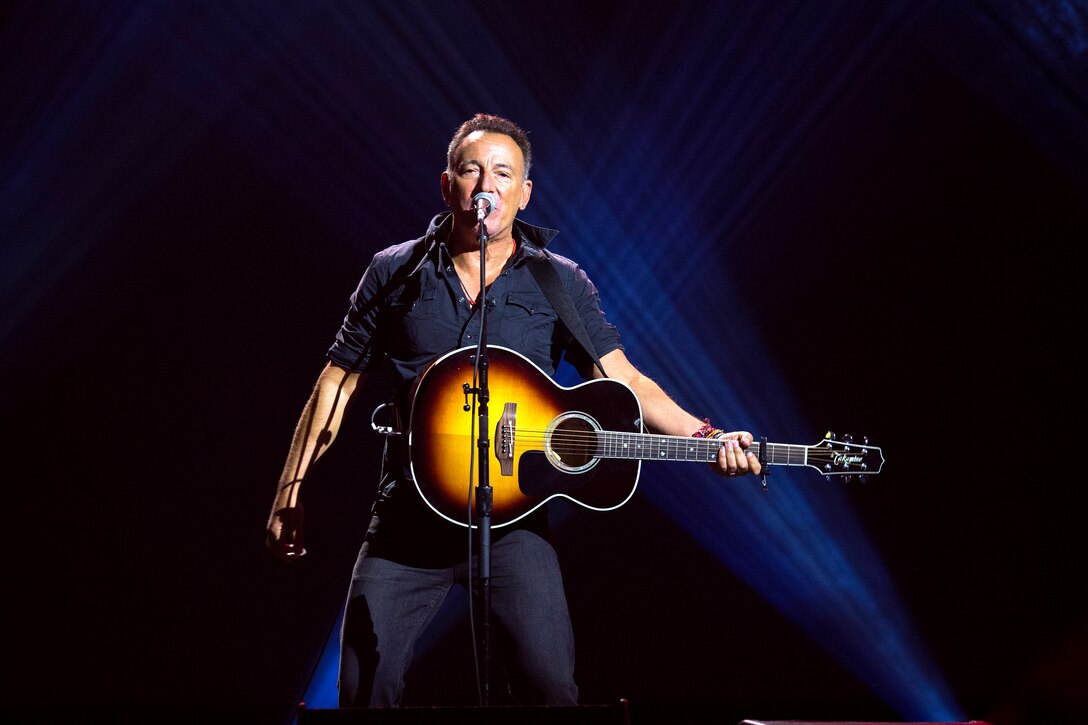 1. I Wanna Marry You, The River (1980)
To kickstart this list, we begin with romantic Springsteen. In this 60s-style pop ballad he masterfully fuses heartfelt adoration with realistic expectations:
"To say I'll make your dreams come true would be wrong / But maybe, darling, I could help them along".
What's left is a beautifully sincere promise - nothing more, nothing less.
2. My Beautiful Reward, Lucky Town (1992)
The second track on this list can also be seen as a ballad, albeit this time showing a large influence from folk. Springsteen elaborates on themes of commitment and love explored in his previous album (
Human Touch
) with a stream of dreamy chords flowing smoothly below a verse of restless lyrics. Even at the close, the speaker is still searching for his "beautiful reward".
3. If I Should Fall Behind, Lucky Town (1992)
Regularly performed on the 1999 E Street Band Reunion tour, Springsteen wrote 'If I Should Fall Behind' as a love song to his second wife Patti, who he married in 1989. The lyrics read like forlorn poetry:
"Now there's a beautiful river in the valley ahead / There 'neath the oak's bough soon we will be wed / Should we lose each other in the shadow of the evening trees / I'll wait for you / And should I fall behind / Wait for me"
.
4. The Wish - Studio Outtake - 1987, Tracks (1998)
Springsteen's father was unemployed most of the time, so his mother Adele Ann was the main breadwinner and worked as a legal secretary to provide for her family:
"I remember in the morning, ma, hearing your alarm clock ring / I'd lie in bed and listen to you gettin' ready for work"
. Omitted from Springsteen's 1987 album
Tunnel of Love
, 'The Wish' is written in earnest, filled to the brim with love and adoration for mothers everywhere:
"This one's for you, ma, let me come right out and say it / It's overdue, but baby, if you're looking for a sad song, well I ain't gonna play it"
.
Article continues below...
More stories you may like...
5. My Hometown, Born In The U.S.A (1984)
While much of Springsteen's work is famously
characterised
by a deep-rooted yearning to escape, to run away, on 'My Hometown' he takes the time to express his settled homely childhood. Performed at the 2018 Tony Awards, where Springsteen was also
honoured
with the Special Tony Award for Lifetime Achievement in the Theatre, the lyrics begin with Springsteen's memories of his childhood:
"I'd sit on his lap in that big old Buick / And steer as we drove through town"
. It's a tender piece of nostalgia from Springsteen, that's so often overlooked.
6. Tougher Than the Rest, Tunnel Of Love (1987)
Famously covered by Emmylou Harris, 'Tougher Than the Rest', perhaps better than any other song, reveals Bruce's vulnerable side. Although the narrator claims to be tougher than the rest, the song deftly deconstructs the conventional conception of masculinity.
7. Jack Of All Trades, Wrecking Ball (2012)
Wrecking Ball
received mixed reviews, with many critics citing its musical and emotional turmoil as its high point but also its ultimate downfall. Nevertheless, 'Jack Of All Trades', despite its bleak (and at times somewhat melodramatic) view of an unequal and inescapable society, is ultimately positive in its steadfastness nature and inspiration to carry on in the face of daily struggles.
8. Independence Day, The River (1980)
In 'Independence Day' - the father-and-son ballad that ranks with the most tear-jerking songs Springsteen has ever written - Bruce expresses the internal struggle that came with the loss of his father. Opening with the role-reversing lines:
"Well Papa go to bed now it's getting late"
, the song expresses how
"There was just no way this house could hold the two of us / I guess that we were just too much of the same kind"
. Composed in 1977 but omitted from 1978s
Darkness On The Edge of Town,
and later released on
The River
in 1980, the track has added sombreness with the feature of former E Street Band members, Danny Federici on organ, and Clarence Clemons on saxophone.
9. Racing in the Street, Darkness On the Edge of Town (1978)
In this truly devastating stripped-back piano ballad, Springsteen adopts the persona of a worn-out boy racer stranded in a forgotten town;
"Some guys they just give up living / And start dying little by little piece by piece / Some guys come home from work and wash up / Then go racin' in the street"
. With only hints of backing vocals, Bruce shows how with minimum ornamentation, an effective atmosphere can be created. The real sadness comes in what Springsteen doesn't sing:
"Tonight tonight the highway's bright".
10. Land of Hope and Dreams, Live in New York City (2001)
Although the only studio recording of this track appears on
Wrecking Ball
in 2012, the song was actually written in
1999,
and has been widely performed on tour and released in numerous live albums. The Madison Square Garden performance in 2000 comes in last and best on this list. At 9:46 minutes, the song is immense both in length and arena-blowing epicness. Springsteen welcomes all people regardless of race, class or history to his infamous train metaphor and at the close of the recording we hear the roaring chanting of "Bruce!" - a testament to his long-lasting ability as a teacher and entertainer.
TRENDING
TRENDING CHANNELS
Ranking:
Articles: 29
Reads: 158717