Former Hollywood assistant releases sexist emails sent by her boss who apologised by asking to play 'nazi death camp'
A former Hollywood assistant has named and shamed her 'sexist' former boss by releasing a series of emails he mistakenly sent her including one which called her an 'uppity selfish cunt'.
In March 2016, Rosette Laursen requested a day off so she could partake in 'A Day Without a Woman' protest.
However, talent manager Michael Einfeld of Michael Einfeld Management, launched a vitriolic attack against her request and accidentally cc'd her in.
In two emails intended for two male colleagues, he wrote he was never hiring 'a girl ever again' and that someone needed to 'see her vagina shut.' The email was accidentally forwarded to the whole office.
Laursen shared the email on Facebook along with a statement describing the office as a "hostile work environment."
The first of two reads: "Are you fucking kidding me. At the end of pilot season. Someone should see her vagina shut. I'm never hiring. A girl ever again."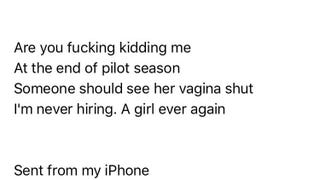 The second email reads:

"No bonus for anyone that strikes or leaves early in pilot season. No one is striking in show business we are all against Trump. And women are considered diverse and being shoved in as writer and directors. Zach who is a Jewish male is being pushed out. Uppity Selfish Cunt. Heather went to work. I'm sure anyone at a casting office or agency would be fired."
After realising his mistake, Einfeld sent a bizarre apology to Laursen via imessage.
He asked if they could play 'nazi death camp.'
"I apologize for venting like a masagonistic faggit [sic], I was letting off steam I didn't mean to hit reply all. I'm an a-hole. If you come back we can play Nazi death camp. You can beat me and put me in the oven. Or feed me cabbage and lock me in the shower. I am truly sorry."
Laursen had not asked to be paid for the day off, in a statement she said:
"I asked for the day off because I thought this was a great cause".
She later quit her job due to the content of Einfeld's emails and his behaviour in the office.
Einfeld would shout offensive things in the office, Laursen claims he screamed 'he is never friends with women,' called black clients the N-word behind their back and referred to employees as "fucking retards".
Following her Facebook post, he sent an email apologising to his friends, colleagues and clients.
"I am sorry. I used language that was tasteless, humourless and completely inexcusable. I believe deeply in workplace diversity regardless of race, gender, creed or sexual orientation, and I am mortified that the things I have said have worked against my commitment to inclusion."
Article continues below...
More stories you may like...
Entertainment news site The Wrap claims that the Michael Einfeld Management office in LA has since shut down due to the scandal the emails have caused. To note: Rosette Laursen Facebook post was later removed by Facebook but she re-shared the contents of the post to her personal
website
.
Featured image courtesy of Rosette Laursen's instagram
TRENDING
TRENDING CHANNELS
Ranking:
Articles: 29
Reads: 164275