Teen Titans GO! To the Movies review - a fun superhero flick that isn't just for the kids
Verdict: a bright, family-friendly superhero movie that mocks the genre in a childish and strangely elegant way.
It's become a staple of kid's movies to involve some multi-level jokes that can be enjoyed by parents and children alike, and Teen Titans GO! To the Movies
has them in droves. It's a strange mix of childish humour – fart jokes and all! – paired with a satirical look at the sudden popularity of superhero films in Hollywood. It mocks what is needed to make a superhero movie, what kind of superheroes get chosen, as well as poking fun at some of the more recent superhero movies – including the infamous Martha scene from
Batman vs. Superman
(2016)
!
However, this is a film for superhero and comic book fans too. A point is made in the movie to showcase obscure superheroes that, whilst a younger audience may not be aware of them, an old school fan surely would be. There are lots of moments where aspects from the comics – storylines and arcs, or the more questionable heroes that have graced the wider superhero universe – are teased and played with, alongside some great pop culture references of old nerdy classics.
The story itself is focused around superhero movies in a world of superheroes, drawing lots of comparisons from both DC and Marvel movies. It's an interesting storyline - although the plot twist is something that becomes obvious long before the reveal, that's somewhat to be expected in a film that is relying on familiarity and a certain amount of simplicity to keep children engaged and comfortable. There are, however, moments where the story felt as if it were stopping and starting as the film tried to cram a ton of different arcs and developments into one short timeframe.
Article continues below...
More stories you may like...
This is very much a character-driven story. The characters depicted and the voice acting alongside it are very well done. Lots of exaggerating character traits, as you would expect in a comedy, but at no point did the characters seem unrecognisable. It focuses on Robin, Starfire, Raven, Beastboy, and Cyborg as they attempt to show the world that they are 'real superheroes' and defeat the villain Slade from mind controlling the world. One of the more impressive parts is the symmetry of the story at the beginning and the end – the characters come full circle, almost ending up at the same place, but have built their strength, used their abilities to the very most, and grown in confidence in their abilities to protect the innocent.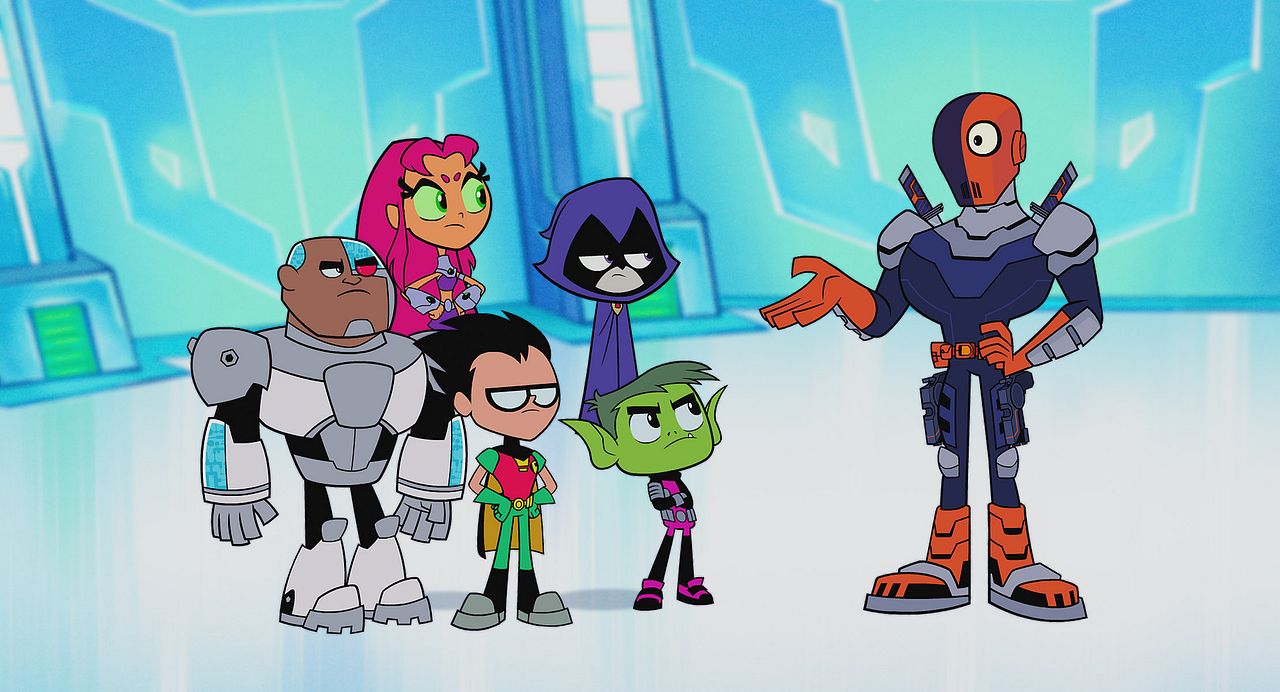 The music is a very clear highlight - lots of songs and musical moments. The Teen Titans Go theme music is used very well in the story, and is the thing you will walk away remembering in your head, very much in the vein of The Lego Movie's 'Everything Is Awesome'.
Despite all the work that went into making this a film that can be enjoyable for all ages, this is still a Teen Titans Go film. Following the cartoon on Cartoon Network, the humour and the storylines and characters are depicted in a very silly way. If you didn't enjoy the series, chances are you will find fault in the movie.
Overall, Teen Titans Go To The Movies was an enjoyable romp for children and adults alike. A lot more can be gotten out of it as a comic book fan, but there is still a lot for those who aren't. It's bright and colourful, humorous in many places, and a good addition to the superhero cartoon movies genre.
(And that end credits scene, hope it means what we all think it means Teen Titans fans!)
Teen Titans GO! To the Movies comes to UK cinemas on August 3rd, distributed by Warner Bros. Pictures.
TRENDING
TRENDING CHANNELS
Ranking:
Articles: 29
Reads: 178391