Breaking boundaries and crossing oceans, we celebrate 10 South Asian stars in Hollywood
Diversity has been a buzzword in media for the last few years, and the announcement of the 2017 Academy invitees has brought the debate firmly back into the spotlight.
Following a slew of whitewashing East Asian roles and the subsequent backlash from viewers, it seems pretty clear that audiences are impatient for the representation they deserve. We think the best way to promote representation on screen is to support diverse artists so the industry sees that these faces and stories do, in fact, make money.
With that in mind, we've noticed a spike in South Asian entertainers making it in the West this year, and have compiled a list of our favourites. Check it out below!
1. Riz Ahmed
The British-Pakistani - working as an actor, rapper, and activist - smashed his way into the mainstream last year with his role in HBO's hit series The Night Of, and for his part as Bodhi Rook in Rogue One: A Star Wars Story.
Those of you who have been fans of his for a long time, though, will remember his mixtape Post 9/11 Blues, which was actually banned in the UK for its controversial lyrics. A voice for the South Asian diaspora community, Ahmed has never been afraid of controversy. His first films The Reluctant Fundamentalist, Road to Guantanamo, and Film4's iconic terrorist-comedy Four Lions have all earned him critical praise as well as ruffling a few feathers
2. Dev Patel
Dev Patel is probably one of the first names you think of when you think of South Asian faces in Hollywood, right? After his catapult to fame in Danny Boyle's Slumdog Millionaire, Patel has continued to work with some of then biggest names in the business.
This year, his performance in Lion earned him an Academy Award, Golden Globe, and SAG nomination for best Supporting Actor, alongside a BAFTA win. In between those projects, Patel has added his unique charm to the The Best Exotic Marigold Hotel franchise, as well as more profound roles in Chappie and The Man Who Knew Infinity.
3. Priyanka Chopra
India's own film industry, Bollywood, is the biggest in the world, and it's full of talent. Luckily for Hollywood, some of those stars have decided to make the jump into Western cinema, and Priyanka Chopra is no different.
A megastar in Bollywood, she decided to branch out, and has been starring as Alex Parrish in secret service drama Quantico. You may also recognise her from the recent Baywatch remake in which she stole the show as the conniving Victoria Leeds. We can look forward to seeing more of Chopra in Hollywood, since she's set to star in A Kid Like Jake (2018) alongside Claire Danes and Octavia Spencer, and Isn't It Romantic (2019) alongside the likes of Rebel Wilson.
4. Deepika Padukone
Following in her Bajirao Mastani co-star's footsteps, Deepika Padukone is also Bollywood royalty who has made the decision to jump ship. You'll remember her from the latest instalment of Vin Diesel's xXx franchise, xXx: The Return of Xander Cage, where she played the gun-toting femme-fatale with a heart of gold, Serena.
Both Priyanka and Deepika are kick-ass Indian women who have done incredible amounts to dispel cultural stereotypes in both the Indian and American film industries — and we can't wait to see what that do next! Whilst not officially confirmed, Vin Diesel has certainly made some noises about bringing Padukone on board for a future Fast & Furious film, which would be a pleasure to see.
5. Hasan Minhaj
Crossing oceans and genres, let's take a look at our next star: Indian-American comedian Hasan Minhaj. You might know Minhaj from his work as a correspondent on The Daily Show alongside Trevor Noah, or perhaps from his now-infamous speech from this year's Press Correspondent's Dinner, where he effortlessly and hilariously dragged Donald Trump without breaking a sweat.
His most recent project, the Netflix comedy special Homecoming King, has been his most resounding success. With unparalleled showmanship, Minhaj leads his audience through the ups and downs of his clever narrative. He jokingly claims to be "the cure for racism," and though he's being flippant, there's a note of truth to it. By speaking so openly about his experiences in such an entertaining and raw way, there's a shred of hope that viewers can learn something about how to overcome prejudice.
6. Mindy Kaling
Iconic The Office actress Mindy Kaling has has huge success with her comedy show The Mindy Project, as well as by lending her distinctive voice to huge films such as Inside Out and Wreck-It Ralph. She's got some totally different and exciting projects coming up for us to look forward to as well.
Kaling is playing Mrs Who in Ava DuVernay's adaptation of sci-fi classic novel A Wrinkle in Time, as well as being one of the Ocho in the all-female Ocean's instalment Oceans Ocho, alongside Cate Blanchett, Helena Bonham-Carter, Anne Hathaway, and Rihanna.
7. Aziz Ansari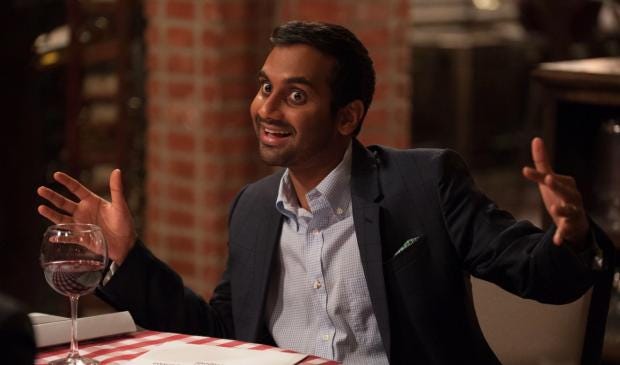 Aziz Ansari is another comedian who started out as part of an ensemble show, and went on to create his own. Since the end of Parks and Recreation, Ansari has been hard at work on his own Netflix series Master of None. The second season came out this Summer, so if you need something to binge, this is the show for you!
The show follows Dev, a struggling actor in New York, through his tumultuous life - whether that be through his profession, his romances, or his family. Though the show overall is a little hit and miss, some episodes do an admirable job of presenting the problems faced by second-generation immigrants.
8. Kumail Nanjiani
The Silicon Valley comedian has gone a step further and made a semi-autobiographical film about his own love life, The Big Sick. Whilst his success is a wonderful thing for South Asian representation, the film can be reductive in parts - especially when it comes to his own culture.
I hope that Nanjiani continues to be successful in future, but I also hope he considers the responsibility that he has by dint of the position he is in, to represent South Asian culture on a world stage.
9. Gurinder Chadha
It's important not to forget talent behind the camera too! Iconic British-Indian writer-director Gurinder Chadha has been a staple of Brit-Asian culture since her seminal 2002 film Bend it Like Beckham. She's also lent her talents to Indian Austen adaptation Bride and Prejudice, as well as teen chick-flick Angus, Thongs and Perfect Snogging. This year saw the release of her most recent project Viceroy's House — an epic period drama depicting the India/Pakistan partition, and the role the British Viceroy had to play in it.
Chadha has always done a brilliant job at reflecting the specifically British-Asian experience in her work, so her connection to both cultures makes her the ideal filmmaker to tackle so contentious an issue.
10. Mira Nair
Mira Nair is another Indian director who has been unafraid to tackle controversial cultural topics. From her Academy Award nominated debut feature film Salaam Bombay!, to her terrorist drama the Reluctant Fundamentalist, Nair's distinctive style has always brought fraught topics to the forefront of conversation.
Her most recent project, Queen of Katwe, starring Lupita Nyong'o and David Oyelowo, tells the true story of Ugandan chess prodigy Phiona Mutesi's journey out of poverty. This is perfect example of a successful director of colour using her influence to give a platform to other diverse stories, not just ones from her own culture.
That's the end of the list for now, but other South Asian focussed media coming out soon include Victoria and Abdul, starring Judi Dench and Ali Fazal, telling the true story of Queen Victoria's unlikely friendship with Indian clerk Abdul Karim. Also in production is an upcoming BBC adaptation of Satnam Sanghera's seminal memoir The Boy with the Top Knot, which documents his experience as a young boy growing up in Wolverhampton.
Now go forth and enjoy some pukka programs!
TRENDING
TRENDING CHANNELS
Ranking:
Articles: 15
Reads: 15874