Every fashion discount available to students right now
As a student, you have many advantages and there's something you get given that happens to be one of my favourites.
No, it is not the free pot noodles you hoarded at the Fresher's Fair (although they do help) but instead, it's the discounts we are given by multiple retail outlets.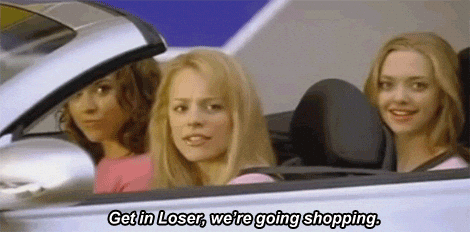 I have scoured the internet for a definite list of discounts given to UK students by different bodies, such as UniDays and Student Beans - and boy have they delivered! So grab yourself a pad and pen and get ready for all these discounts!
The Discount Providers
UNiDays
- UNiDays is a company that connect brands with students in over 114 countries. All you have to do is sign up and download the app to receive some really cool discounts up to 20% off! I decided to nosey through
the fashion
and beauty discounts and trust me, they did not disappoint! They currently offer discounts on several big fashion names, including ASOS, Boohoo and Missguided - so you've really no excuse not to treat yourself. You can sign up for UNiDays
here!
Student Beans
- Student Beans is another student discount service that offers more even more discounts on clothing. They're currently offering up to 30% on a variety of brands including Hunter Wellies, and a whopping 50% off on In The Style! You can sign up to Student Beans
here!
TOTUM
- TOTUM, formally known as NUS Extra, is a site that offers a discount card that can be used online and shown in store. TOTUM currently offers lots of beauty discounts like 10% off at Nails Inc and 25% off at Nicky Clarke Hairdressers! You can sign up for your card
here!
The Discounts in Action
I've narrowed down some of the most important things anyone should take to university and applied that sweet, sweet student discount!
A Coat
Everybody needs one of these and they're important to invest in. Try to pick a colour that will match a lot of your other clothing, like
this puffer jacket from Pretty Little Thing,

£35

£32.50!
This beauty is guaranteed to keep you warm AND on trend through the Autumn and Winter months. PLT discount from UNiDays = 10%
Functional Heels
Although I do know that university is the perfect time to wear trainers on a night out, I also want you to hear me out! You might have a dressy-up night or a *GASP* date that requires elevating your look from your usual Adidas Stan Smith's. I recommend these bold and bright Brandy Ankle Boots from Topshop
£36
, £32.40 to give your look a bold transition into A/W. Topshop Discount from Student Beans = 10%
Article continues below...
More stories you may like...
Sportswear
If you're a gym bunny or have decided to start a new sport at university, why not get yourself kitted out? Why not treat yourself to these
Under Armour Workout Leggings,

£50,

£45!
Investing in your sportswear is a great idea because not only will it go the distance on your exercise journey, it will also motivate you to go to the gym - purely because you spent a fair bit on the outfit! Under Armour discount from UNiDays = 10%
A Little Sparkle
As of the 15th September,
Pandora
is launching their first ever student events across the UK, offering a 15% discount for those who hold an NUS/TOTUM card, along with refreshments, treats and a gift with each purchase!
You can even choose from the new Autumn collection and the new Disney collaboration pieces! One of my favourites is this
Regal Hearts Stud Earrings, £35
- super classic and could be worn whenever!
You can find listings and information about
these events here!
Other Discounts
Student discounts are also currently offered at several other stores too, including:
ASOS
Boohoo
Urban Outfitters
Forever 21
Jack Wills
Missguided
If you can't see your favourite store
on
here, don't be disheartened! I always recommend always carrying around your student card and asking cashiers if they do student discounts in the store - sometimes they will knock 10% off and you've saved some money for your vodka and coke at social.
Which of these brands will you be shopping?
Lead Image: Pixabay
TRENDING
TRENDING CHANNELS
Ranking:
Articles: 16
Reads: 16788