EDIT: 10 high-street co-ords
Co-ordinates, co-ords, matching sets - whatever you call them, we've got ten of the best on the high-street right now.
It's April, we're all yearning for a glance of the sun and starting to save for those summer plans. Whether you want to pick up some holiday pieces already or buy a co-ord set so you are on trend right now; we've got you covered. These co-ord sets tick the trendy boxes and will make all your stylish dreams come true.
Topshop, Denim Co-ord: £72
We're kicking things off with a more edgier option, thanks to that trendy raw hem. It's an easy, everyday piece that you can throw on in the morning without too much thought. It is this simplicity that makes it an incredibly versatile piece, and so would be perfect for all year round. Although it is on the pricier side, this is not a trend piece that will end up on the floor of your wardrobe in a few months time - denim skirts and jackets never go out of style, and you can always wear them separately.
New Look, Black Stripe Co-ord: £37.98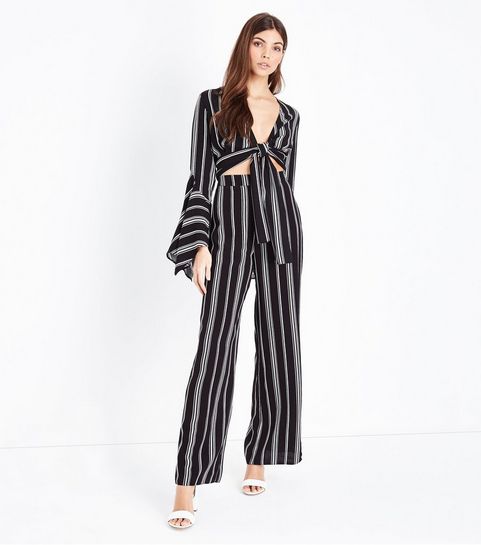 A spring/summer transition piece, this stripe co-ord stands out from the plethora of others splashed across the high-street with those gorgeous bell sleeves. The asymmetrical stripes on the sleeves add to the spiral illusion which causes the very fabric of the piece to pulsate with 70s vibes.
Miss Selfridge, Navy Jacquard Co-ord: £57
This jacquard set is a casual and easy way to fit into this trend. As the pattern can only be seen when reflected by the light, it is a little less daunting, therefore this one is for those of you ready to shuffle out your comfort zone and try something new.
Urban Outfitters, Palazzo Floral Co-ord: £57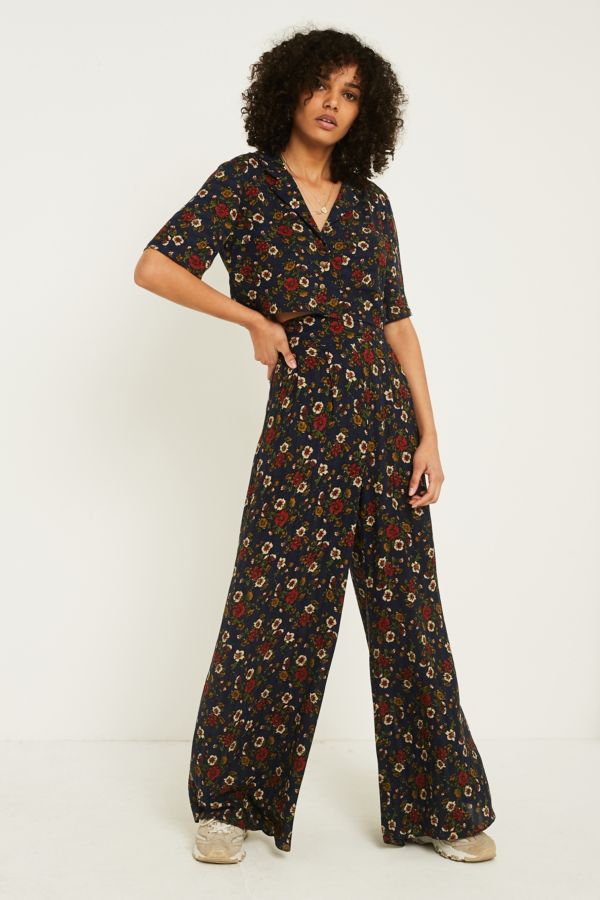 A darker take on the floral trend, the small and compact pattern takes, what is usually a statement pattern, down a notch - keeping it casual. It's loose fitting with an elastic backing at the waist; your spring wardrobe has never looked so good with the addition of this one.
Pull & Bear, Floral Top and Trousers Co-ord: £43.98 via ASOS
Article continues below...
More stories you may like...
The silhouette created by a wide leg paired and a tied top is being frequently used amongst co-ord sets this season as they create that flattering hourglass shape that we all crave, however, the colour palette of this one makes it unique. The mustard yellow flowers act as a little wink to the mustard colour trend currently exuding from the catwalk. If you don't want to show too much skin, but still stay cool when the sun returns then this piece will be perfect; it also makes it a festival essential.
Boohoo, Amy Ruffle Sleeve Top and Trouser Set: £25
While simple in pattern and colour, this set has a quirky edge with the ruffle sleeves, which fits in with the 'big shoulder' trend this season. Despite its simplicity, it is the sleeves that make this piece one for the more daring, and also allows you to get a little more experimental with your shoes, jewellery and bag choices.
Boohoo, Lottie Check Spaghetti Strap Midi Co-ord: £18
Ever since
Friends
was put on Netflix, Rachel, Phoebe and Monica's styles have started to slide onto our Pinterest boards. This particular co-ord gives me distinct Rachel-vibes with the checkered design and chic dusty pink colour. The great thing about co-
ords
is that you can start rocking the skirt this spring, by pairing it with some tights and a plain tee, and then when summer comes around, you can whip out the crop top too!
River Island, Red Floral Co-ord: £44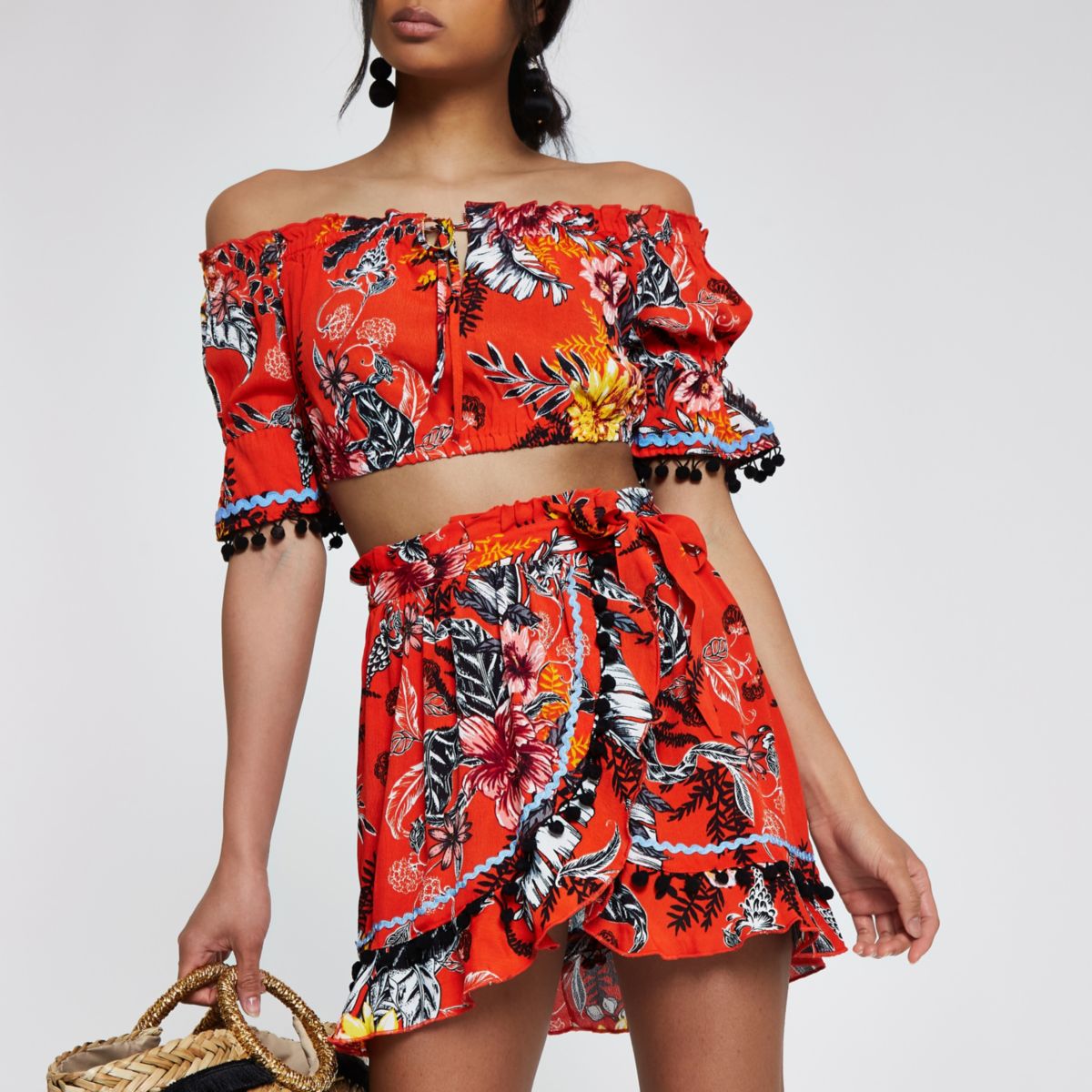 Bright and busy, this cute combo will make you pop on the beach. There are lots of small details about this piece that really makes it unique, such as the frill hem and the dainty tie on the top, these only add to this co-
ords
allure.
Honey Punch, Velvet Co-ord: £48 via ASOS
This velvet trouser suit is a little out there and would definitely require some bravery to pull off, but with the right kind of confidence, this enchanting shade of blue will certainly illuminate you on the street and get some heads turning.
Pretty Litte Thing, Lilac Scarf Print Co-ord: £27
The intricate, almost antique design of this co-ord is gorgeous. It has a soft, silky finish that will have a beautiful shine in the sun. This is an easy item to dress up (just add heels) or dress down (pair a white tee with the skirt, rather than the crop top). This one is budget friendly and a style success.
Which of these do you want to put in your wardrobe?
TRENDING
TRENDING CHANNELS
Ranking:
Articles: 29
Reads: 163521