EDIT: Dressing Gowns
I don't know about you, but every Christmas I pray that I am given a cosy new dressing gown to see me into the New Year. I feel like this makes me an expert when it comes to this item of clothing.
I have scoured the internet to find a few great robes for you guys to put on your Christmas lists this year. So here we go!
Topshop Patterned Dressing Gown, £32
Snuggle up for a night in with Love Actually in this cosy Topshop number. I'm obsessed with the snuggly material and the cute teddy ears add to the cosy feel - definitely on my Christmas list. Pair this with some cosy socks and be prepared to enter bliss.
Next Sheepy Robe, £26
Who doesn't want to feel like a sheep in their
pjs
? I know I do! This robe also has the funky stars to make it stand out in your wardrobe...
Next Navy Printed Robe, £28
This robe really stood out to me as a unique style compared to the marshmallow robes that had been cropping up left, right and centre. I love the navy because it is a warmer colour compared to black and the chalky constellations give it an arty, unique feel.
H&M Hooded Dressing Gown, £34.99
Who knew we could take the athleisure trend to the bedroom? This hoodie inspired gown looks cosy, comfortable and very stylish! I also love this pop of colour in an otherwise soft palette found in dressing gowns.
Next Initial Robe, £28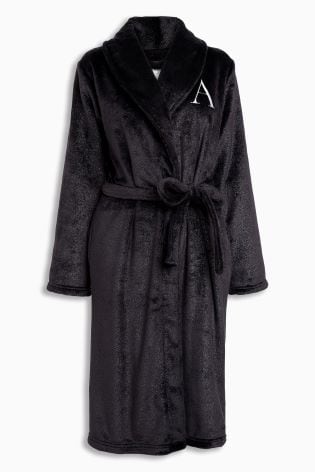 I am all for personalisation and think that there's nothing better than having a big fat 'J' on everything I own. This is a great way of making your clothing personal and unique to your own style.
Which of these dressing gowns do you prefer?
TRENDING
TRENDING CHANNELS
Ranking:
Articles: 16
Reads: 18491