EDIT: Jeans Alternatives
Jeans may be the go-to garment for many of us; teamed with a 'nice top' and the right shoes, and it does the job for pretty much any occasion. But the most creative of outfits? Not exactly.
Open up your wardrobe and let in some chic denim alternatives to revamp your style this winter, and say goodbye to jeans – so last season.
Grey Stripe Wide Leg Trousers, £45, River Island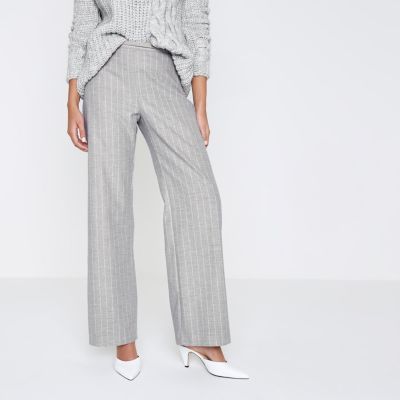 A girl's best friend! A more season appropriate option to our much-loved culottes, wide leg trousers are everywhere right now, and are we surprised? They tick all the boxes, and as for giving us some leeway for any extra Christmas pounds we may pile on… yes please!
Milk It Vintage Tiered Maxi Skirt In Floral Print, £45, ASOS
Maxi skirts can be perfect for the slouchy-chic vibe for frosty days – feminine and floaty, but you don't need to shave your legs… ideal. For an understated but edgy vibe, team these with converse, a baggy jumper and pull together with a studded belt, for an outfit where the details really complete the look. And floral for winter? Groundbreaking!
Slouch Button Front Jumpsuit, £42, Topshop
Find yourself a casual jumpsuit and you're on to a winner, a one piece that does the job – easy! Make sure it's a comfortable fabric and you're sorted for those slack days. For an interchangeable look, layer up cute tops or polo necks underneath or throw on a hoodie and you're good to go.
Kappa Wise Black Popper Pants, £40.00, Urban Outfitters
Article continues below...
More stories you may like...
The athleisure trend has swung around for yet another season (woohoo) making practical comfy dressing whilst looking sassy oh-so-easy. Popper trousers are an ultimate favourite at the moment: pair with funky sneaks and a fur coat for an everyday look that is so not dressed down. Channel your inner Sporty Spice!
Charcoal Grey Off Shoulder Knitted Jumper Dress, £22, Missguided
Nothing screams winter like a knitted jumper dress, cosy, practical and super easy to throw on… perfect for those frosty mornings where a lie in is essential. A bomber jacket, ankle boots and some sleek tights make this the ultimate go-to outfit.
Faux Leather Mini Skirt by Calvin Klein, £90, Topshop
Ok, the cold weather has made a reappearance, but this does not mean short skirts are out of the picture. Brighten up those grey days with a bright leather skirt or a funky patterned number. Yes, they may be more operate for summer days, but mix with woolly tights, knee-high boots and a polo neck, and this is the ideal winter outfit.
Stradivarious Vinyl Trouser, £28.99, ASOS
No, stop thinking about Ross from Friends! Vinyl trousers are such a funky alternative, especially for those black jeans lovers. Their versatility is definitely a winning point from me; wear with a pair of funky heels for a night out, or throw on a bright cable knit and some ankle boots for a day-to-day look. Top tip: talcum powder or lotion not required!
Jeans who?!
TRENDING
TRENDING CHANNELS
Ranking:
Articles: 13
Reads: 13129