How to nail the 70's look
The 70's are back. In a huge way. The decade famed for flared jeans, long carefree hair and corduroy (yes, corduroy) is taking over the high street this autumn/winter.
The easiest way to get inspiration when it comes to 70's dressing is to look at the fashion icons of the decade. These three, for example, are easy to nail on a student budget:
1. Farrah Fawcett
One of the biggest fashion icons of the decade was Charlie's Angel, Farrah Fawcett.
This 1976 image shot on the set of Charlie's Angels is one that has stood the test of time in the style stakes.
Get Farrah's iconic look with a classic pair of Nike Cortez trainers, red sweatshirt and of course a pair of 70's flared denim jeans.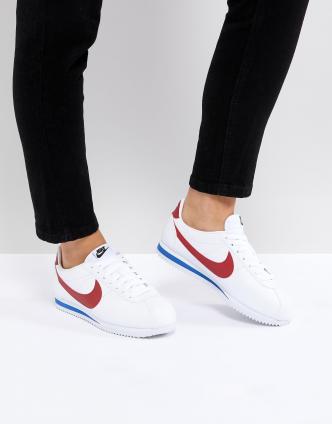 From Left:
Nike Cortez, £65, ASOS
Red Sweater, £12.99, Zara
Flared Jeans, £40, Topshop
2. Diane Keaton
Another huge icon of the 70's was Diane Keaton, the star of Annie Hall in 1977 she became a wardrobe icon for women everywhere.
Her masculine tailored style still influences the likes of Alexa Chung. (See our recent tailoring edit for more inspiration). To get the classic Annie Hall look, you'll need a white shirt (tie optional for the brave) and brown trousers.
Left: White Shirt, £18, Missguided Right: Trousers, £38, Topshop
3. Bianca Jagger
The first
wife of Rolling Stone Mick Jagger, Bianca Jagger was a huge style icon as part of the disco scene of the 70's and a regular at iconic Manhattan nightclub Studio 54.
Bianca's look is perfect for autumn/winter as she favoured luxurious metallic fabrics, and she wouldn't be seen without a pair of white platform heels. She even clipped her Rolling Stones backstage pass to her shoes.
To get her look opt for a metallic jumpsuit with halter neck and of course a pair of platforms.
Article continues below...
More stories you may like...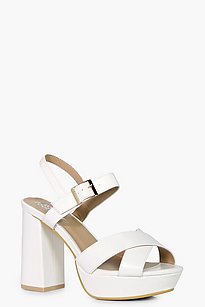 Left: Jumpsuit, £26, ASOS Right: Platform Heels, £18, Boohoo
Key pieces to keep an eye out for when looking to get the 70's look are classic items that you can utilise from season to season. Styles popular in the 70's come back year after year so find pieces that you know you're going to love for years.
So if you want to nail the 70's look again and again, it might be worth investing in these three key pieces:
1. Roll Neck Jumper
A great place to start is with a roll neck jumper, it's a great layering piece that can be worn underneath dungarees or a t-shirt for an authentic 70's look or can be worn alone for a more modern take on a classic style.
Left: Striped Jumper, £15, ASOS Right: Blue Jumper, £24, Topshop
2. Corduroy
Admittedly it's a fabric which probably reminds you of your grandad, but that's not a bad thing! Corduroy is the fabric to buy this season. Soft autumnal colours make it much more wearable than you think and teamed with a plain roll neck jumper you'll be nailing the 70's trend.
Left: Pink Trousers, £25.99, Zara Right: Skirt, £34, Topshop
3. Flared Jeans
Of course, no 70's inspired wardrobe is complete without a pair of flared jeans. If you're scared off by the thought of huge flares, a kick flare is a wearable modern alternative and they're all over the high street. A light wash will give you a more authentic 70's look, but black also looks great too!
Left: Dree Jeans, £18, Topshop Right: Cropped Flares, £40, ASOS
Tag us at #NSFashion to let us see your 70's inspired looks!
TRENDING
TRENDING CHANNELS
Ranking:
Articles: 16
Reads: 18659