EDIT: Fall Footwear
Autumn has always been my favourite season, and I know for a fact I'm not the first to have fallen in love with its colour palette.
With warm reds, mustard yellows, muted khakis and earthy browns all coating the shelves of our favourite high street stores, this edit takes a break from clothing to look at our favourite fall footwear! While practical benefits such as keeping your feet warm and dry are important, I won't pretend the need to look good is of any less of a priority. With this in mind, here are our seasonal picks that
won't
leave your wardrobe looking as miserable as the weather!
Treflo Derby Shoe - Marco Tozzi - £46.50
While traditions may have upheld Derby shoes as a male exclusive in the past, there was no way we'd have ever let that happen. With Doc Martins famously adopting the style and mounting it atop a clunky platform, I won't pretend I'm not pleased to see that the classic Derby style is still up there as a cult favourite. Derby shoes are undoubtedly eternal in their appeal, with this pairs' oxblood fade making them especially perfect for this season's palette. I'd recommend that you pair these with warm autumnal tones, but other than that, their genuine versatility allows you to pretty much wear them anywhere, and with any style of outfit. For students hoping to turn their purchases into investments, you can rely on these to keep up with changing seasons and trends.
Lavish Beaded Platform Sandals – Topshop - £56.00
No one is suggesting that heels are the most practical choice for chilly evenings, but considering we'll ditch our coats if they clash with our outfits, practicality is rarely the top of our priorities. So if you are going to wear heels this weekend, at least make sure the payoff is worth the pain. Pieces like this remind me why I enjoy producing edits so much. The golden floral embroidery is so captivating yet somehow retains the elegance of its more subtle competitors. I can already guarantee that there's no dress, jumpsuit, or jean skirt that would not collaborate perfectly with these heels. I challenge you to prove otherwise.
Tortoiseshell Slip-On Plimsolls – River Island - £26.00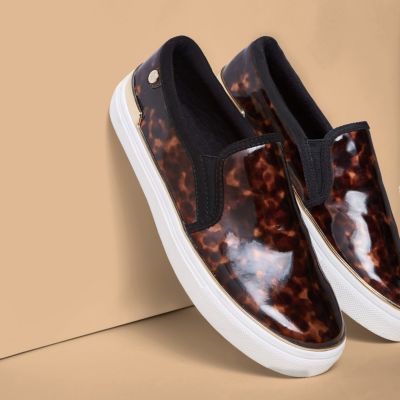 It was only a few years ago that I finally began to wear plimsolls again without gagging over flashbacks to primary school P.E. Soaked to the socks, covered in grass and sliding straight onto your arse as their grip-less soles fail you once again. Granted, there have been a few upgrades. Colours are allowed now, as are materials that don't actively work to absorb every drop of rain from the school field. Losing the Velcro was also a very welcome development. While a tortoiseshell print can often feel a little dated and loud, I quickly fell in love with these anyway. If I had the wardrobe space for anymore printed plimsolls, River Island would have undoubtedly bagged themselves another £26.
Mocha Derby Lace-Ups - Marco Tozzi - £44.99
Anyone in a monogamous relationship with ballet flats will tell you how painful it is to step outside during the winter without fully covering your feet. My first pair of Derby's were actually bought as a result of choosing to wear flats on a shopping trip to Manchester in the middle of December.
Article continues below...
More stories you may like...
In a mocha-stained cheetah print, these are an easy way to incorporate prints into any outfit. The subtle detail and dark laces are perfect for the less daring, or simply for those who already live off print-heavy pieces and are desperate for another clash-free piece to add to the mix.
Samantha Thigh-High Boots – Urban Outfitters - £95.00
Knee-high boots were something I'd always categorised alongside nipple-less bras and PVC knickers. Naturally, seeing them now paired with quaint floral dresses was a pretty unexpected twist. Either way, it was still a trend I found hard to get into, and as open-minded as I try to be with new trends, It was rare I could find OTK boots that didn't leave me feeling both over-dressed, under-dressed and embarrassingly dressed all at the same time. However, as I wandered my way through the UO e-store, these quickly caught my attention. Just like encouraging your kids to eat tomatoes, you've got to start with a universal favourite like ketchup. These boots were my ketchup.
High Block-Heel Boots – Debenhams - £69.00
Heeled boots have been the only piece that has consistently outlived everything else in my wardrobe. There are genuinely thousands of designs to pick from, and as subtle as their differences may seem, it's ridiculous how picky we get. I looked through no less than 100 different pairs of heeled boots before I settled on these, and trust me when I tell you there were another 35 that were 95% identical. Regardless,
these
were the best. The combination of the black body and the brown sole is always something I look out for, as is a full-length zip and a minimum of a 3-inch heel. Overly-picky I know. What's especially brilliant about these is how it extends further up the calf than most ankle boots. The shape and elegance this adds to the design is stunning.
Platform Mules – H&M - £24.99
Whowhatwear.co.uk
were among the many who documented the swell in the popularity of mules at this year's London Fashion Week. From catwalk to street style, they were pretty much everywhere. While the flat and kitten heel varieties didn't appeal much to me, this chunkier alternative most definitely did. These have a real 70s vibe and really do add a bite to any outfit you pair them with. Midi tube skirt and a floral blouse? Absolutely. Velvet playsuit? Essential.
Ankle Boots - Marco Tozzi - £49.99
I already own a pair pretty similar to these, although had I searched for a little longer, I imagine I'd have opted for these instead. Sturdy boots are so useful for keeping your feet warm in the winter. It is one of the few occasions where blue fluffy socks can be worn without getting caught. The simplicity of the design truly benefits these boots as those that are decorated with bold details can risk completely overpowering your look. However, the small details that it does include do allow for a degree of originality. Personally, I love the subtle addition of prints to otherwise blank pieces, and by wearing them, this enables you to effortlessly accessorise without adding anything at all.
Let us know which are your favourites in the comments!
TRENDING
TRENDING CHANNELS
Ranking:
Articles: 16
Reads: 18843