Friday Poem: Seamus Heaney
Seamus Heaney was born on this day, 79 years ago, in 1939. The Nobel Prize winning poet often used nostalgia to root his political and social views, however the poem I have chosen today has a more personal touch.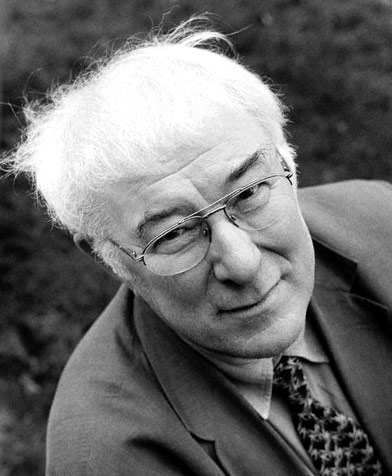 Born in County Derry in Northen Ireland, Seamus Heaney was not only a leading poet for Ireland, but for his entire generation of poets throughout the world. Nonetheless, Irish culture nestles into every corner of his work; even 'Scaffolding', where there are no references to Irish culture at all, has a structure that means you can't help reading it in an Irish accent. 'Scaffolding' is from his first collection
Death of a Naturalist
published in 1966. The collection as a whole is a moving experience; Heaney begins in his childhood, recollecting moments both significant and insignificant, we follow his life's journey until he meets his wife, and the collection closes in his musings about life as a whole. It is a glorious piece of work, but the simplicity of 'Scaffolding' is what draws me towards it. Heaney compares his relationship to a building under construction, highlighting all of the care that is put in place to ensure the scaffolding is strong and safe. The tone of the poem makes this effort appear slightly futile, as it "all comes down when the job's done". However, the way Heaney interprets this when comparing it to his relationship is optimistic and heartwarming; he reassures his partner that nothing will be able to break them apart, not only because of the strength of their metaphorical 'wall', but also from their 'confidence' in it. Heaney suggests that it is actually this confidence alone that will keep them together by putting 'confidence' at the start of the final line, so that it holds all the emphasis, and because even the strongest of walls are temporary. This faith in love is jarring in comparison to previous poems in the
Death of a Naturalist
collection, which often have quite bleak, although realistic themes. However, the reality of the others sheds light onto the reality of this one too, and while having faith in love is not a simple or easy feat, it is also not futile; just like the importance of putting up scaffolding during construction.
'Scaffolding' - Seamus Heaney
Masons, when they start upon a building, Are careful to test out the scaffolding; Make sure that planks won't slip at busy points,
Article continues below...
More stories you may like...
Secure all ladders, tighten bolted joints. And yet all this comes down when the job's done, Showing off walls of sure and solid stone. So if, my dear, there sometimes seem to be Old bridges breaking between you and me, Never fear. We may let the scaffolds fall, Confident that we have built our wall.
TRENDING
TRENDING CHANNELS
Ranking:
Articles: 29
Reads: 163586