Sunday Book Review: Caraval by Stephanie Garber
Caraval was a cover buy. I'm a sucker for pretty and shiny book covers and this book delivers. There were a lot of positive reviews for this book that were being bandied about and that helped me decide that it was worth a hardcover purchase.
Even if it was terrible, at least it would look good on my bookshelves (which it does).
Caraval doesn't disappoint.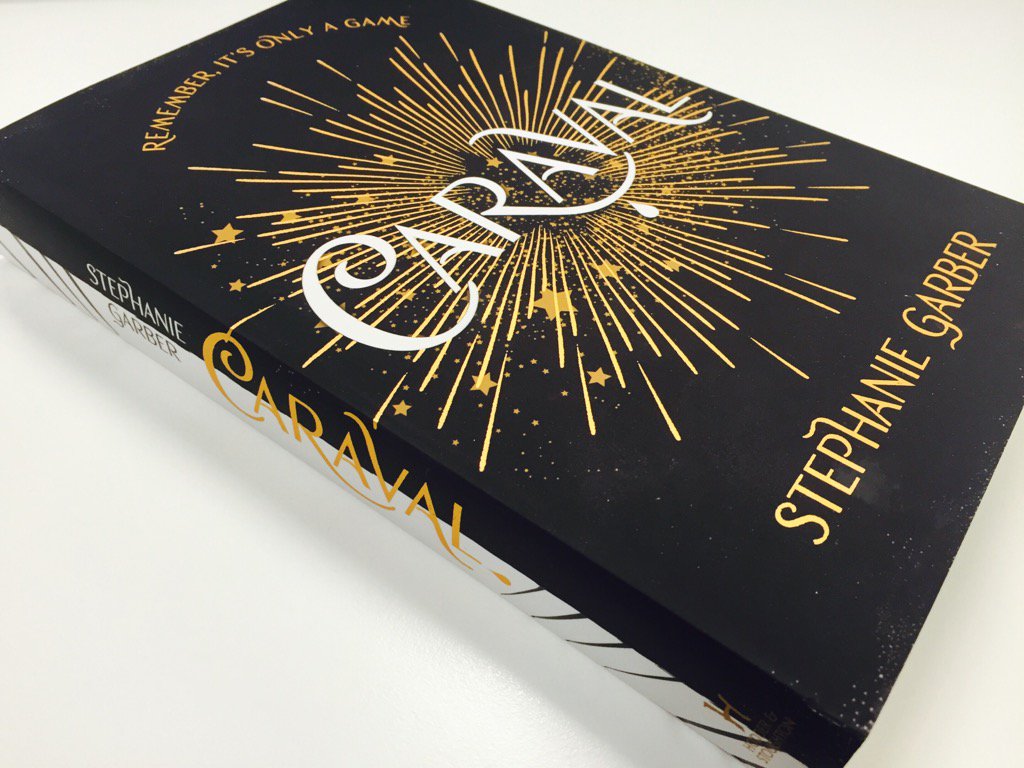 Garber's writing style, for one, is wonderful. Easy to read and utterly immersive. You're drawn in by her descriptions of the unknown, this magical world of Caraval and all the mysteries that lie within. There's so much of this world that is still unknown to you, the reader and the point of view character, Scarlett, but you don't feel short-changed. You want to know more, for sure, but the lack of information given doesn't leave you dissatisfied. In fact, whilst reading, you likely won't even notice how much is still shrouded in darkness.
The way Garber described emotions as colour is delightful. It gives the writing this tangibility - like you can touch what each character is feeling.
Panic is icy-blue.
Happiness is vermillion.
Death is purple.
Article continues below...
More stories you may like...
It enhances the writing and the world in such a subtle way, yet it makes a big difference.
One of the larger successes is how Garber displays her characters – those you know, those you think you know and those that are still a mystery. Scarlett is a character who you can relate to. She feels real – her wants, her fears and what gave her them are embedded in reality. She's had a harsh life, and has had to give up a lot of herself to be able to cope. You get to watch her unravel from this character so tightly controlled in everything she does out of fear, to someone who will do things for herself. The moment when she speaks against her father, spits and snarls all the things that she has bitten back. Her demons aren't her demons anymore, and it's wonderful to see that power.
Donatella, her sister, is important because of Scarlett's devotion to her. You don't see a lot of Tella over the course of the story, but the little that you do see allows you so much insight as to who she is as a person. Garber is very good at allowing you to a feel of a character, which is only really in a handful of scenes.
The sisterly relationship between Scarlett and Tella is the focus of the story, despite the romance that is involved. It is beautiful – from the very start of the book where Scarlett is writing letters to the Legendary Master of the Caraval to get an invitation to her sister, you can see the bond there. It's solidified in the second chapter, when faced with their abusive father, and they are willing to take an assault just to spare their sister the pain.
A bond that is being used to terrify and keep control is the reason for that control breaking in the first place.
Despite all the gushing, it wasn't a flawless piece. The biggest one would be something in terms of the ending – trying to keep spoilers to a minimum here because I'd want you to experience it all for yourself, but "It's all a game" definitely comes into play here. Whilst it is easily understood why it was written that way and there is a certainly foreshadowing towards it, there were parts that leave you feeling a little like the problem was being brushed aside.
The romance seemed a little rushed in places. It is well done - Scarlett and Julian together have some real, honest-to-god, healthy and positive moments to build a relationship upon. But by the end of the story, the L word is being tossed around and maybe it is love. Maybe it's not. It's too soon to say. When I picked it up, I believed it to be a standalone work but when I got to the end, there was a promise of a sequel.
I have so many questions and so many hopes and I'm positive that Garber could deliver in her next book in this series.
Diversity: arguably Julian could be a person of colour (described as having "brown" skin) but there are no specifics. No LGBT+ characters.
Warnings for: parental abuse, manipulation, and a scene of suggested sexual assault.
Caraval was released January 31st and is available in all good bookstores.
TRENDING
TRENDING CHANNELS
Ranking:
Articles: 29
Reads: 180882