8 things we learned from the Labour manifesto announcement
Jeremy Corbyn has unveiled the Labour General Election manifesto at Bradford University, a week after a draft was leaked to the press.
Some pledges remain the same, some have changed. Here's what we learned.
1. Jeremy Corbyn says it's not Labour taking the country back to the 1970s
After the draft manifesto was leaked last week, some critics said Corbyn was taking Labour backwards instead of forwards with policies such as nationalisation.
Corbyn addressed those accusations, saying: "The other major party contending this election is really, really forward-looking: they are going to bring back fox hunting and grammar schools.
"That sounds really 21st Century, doesn't it?"
2. The Labour leader is a member of the National Union of Journalists
As Labour supporters booed a question from Channel 5′s Andy Bell on immigration, Corbyn admonished them, telling them he is a member of the UK's biggest journalists' union.
3. The Labour Party is 'not a cult of personality'
When a question from Jack Blanchard from the Mirror, about Corbyn's popularity with the public, was booed by some in the audience, Corbyn murmured: "It's not a cult of personality, don't worry about it."
He went on to say that personal attacks are not the way forward, rather debating on policy is.
4. Corbyn still wants a TV debate with Theresa May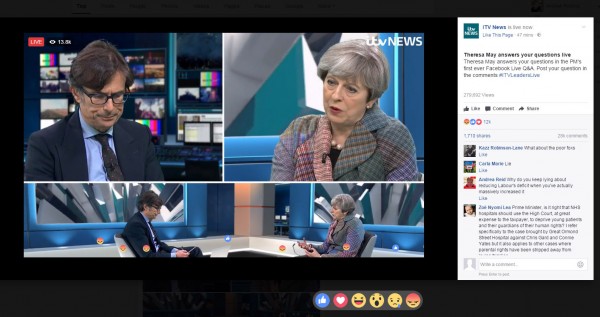 Article continues below...
More stories you may like...
Following on from gatecrashing a Facebook Live event with Theresa May on Monday, Corbyn challenged May to "come out of hiding" and debate him on television.
Now, let's get on to policy…
5. Labour will support the renewal of Trident
The manifesto pledge reads: "As a nuclear-armed power, our country has a responsibility to fulfil our obligations under the Nuclear NonProliferation Treaty. Labour will lead multilateral efforts with international partners and the UN to create a nuclear-free world."
6. Water added to rail, mail and energy to be nationalised
Most of Labour's nationalisation plans were leaked last week, but Corbyn threw water into the mix on Tuesday, pledging to replace the "dysfunctional" water utilities system with a network of regional, publicly owned companies.
The party claims prices have risen by 40% since privatisation in 1989.
7. Tax rate rise for the rich
Labour will lower the threshold for the 45p rate of income tax from £150,000 to £80,000 and introduce a new 50p rate on earnings over £123,000. The party thinks these and other measures will raise £6.4 billion from income tax and £19.4 billion from corporation tax.
However, there will be no rise in personal national insurance contributions or the rate of VAT. The party's tax avoidance programme will also raise £6.5 billion, according to the manifesto.
8. The beginnings of a Brexit plan
Labour has pledged to get rid of the Tories' Brexit white paper and replace it with "fresh negotiating priorities", with strong emphasis on retaining the benefits of the single market and the customs union.
The manifesto says a Labour government would "immediately guarantee" existing rights for all EU nationals in Britain and would "reject 'no deal' as a viable option".
TRENDING
TRENDING CHANNELS
Ranking:
Articles: 15
Reads: 15902