Poundland posted loads of pictures of an elf doing NSFW things and people are not very happy about it
Tea company Twinings has accused Poundland of "misusing" its product after the budget retailer used the brand's teabags in one of a series of NSFW Christmas-themed tweets.
The tweet featured an elf dangling a Twinings teabag over a model of a woman in the manner of a certain sex act.
The tweet was accompanied by the caption: "How do you take your tea? One lump or two?"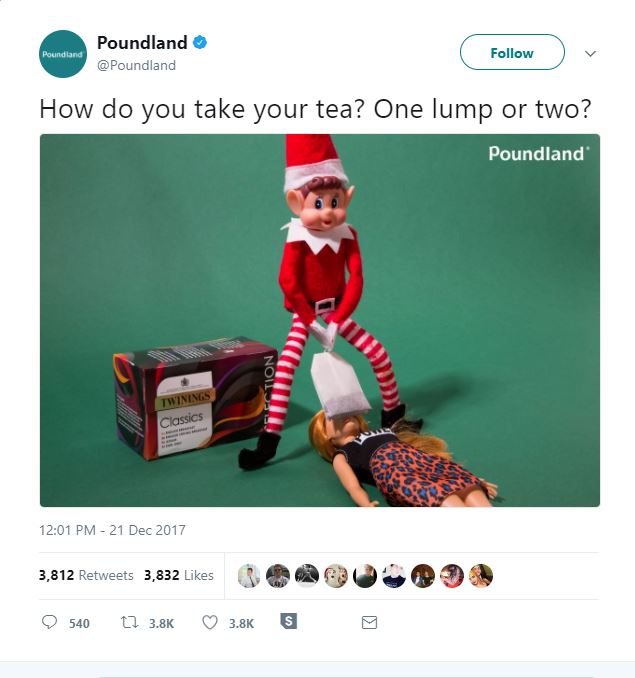 The tweet formed part of a daily series showing the elf in a variety of NSFW situations, including drawing breasts on an iced-over windscreen and playing strip poker.
Poundland said the campaign "connects with our shoppers", adding it was proud of the campaign which cost just £25.53 to create.
In a statement, Twinings said: "We are aware of an image that is circulating that misuses our product. We had no involvement in this and it is obviously not reflective of our brand values."
Twitter users were shocked by the image, which has been retweeted more than 3,000 times.
Author and activist for female representation in the media Caroline Criado Perez said that the tweets may have been designed to cause offence.
Charity Women's Aid also criticised the tweet.
When asked by a user if the retailer's account has been hacked, social media staff member Zoe replied: "The Poundland account has not been hacked. I am sorry that you feel this way and will share your feedback."
Poundland later deleted the original tweet, replacing it with one missing the Twinings box.
TRENDING
TRENDING CHANNELS
Ranking:
Articles: 60
Reads: 175014