Warwick bans students from campus after they made horrific rape comments
Content Warning: this article features explicit comments about rape, sexual violence and racism.
The University of Warwick has banned a group of its students from campus after their shocking group chat discussing raping other students was exposed.
Eleven male students were originally accused of being a part of, or making sick comments, in the group chat where 'jokes' were made about "suprise sex" with freshers and raping people to teach them a lesson.
After ninety-eight screenshots were submitted as evidence as part of a complaint made by a student, the eleven accused were suspended while the messages were investigated by the university's Major Disciplinary Committee. The investigation has now concluded with some of the students punishment including being banned from campus, kicked out of uni and given fines.
What was said in the chat?
Misogynistic and racist comments were repeatedly made.
As well as general 'rape jokes' the men directly discuss other students they know or live with. One participant talks about his female flatmate, saying: "im (sic) going to go all 1945 advancing soviet army on her and rape her in the street while everybody watches".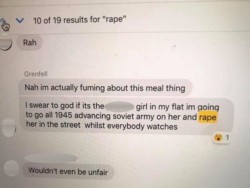 A search of the group chat revealed the word rape was used nineteen times:
"Rape her friends too"
"What do we do with girls? RAAAAAAAAAPE"
"Sometimes it's fun to just go wild and rape 100 girls"
"Rape the whole flat to teach them all (a) lesson."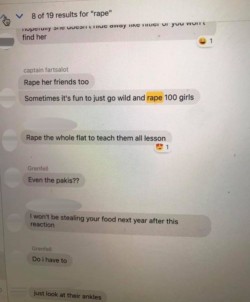 Horrific racist and anti-semitic comments were also made:
"Love Hitler, hate n****s and Jews and Corbyn."
"racism is class"
"Hating c***s"
What has happened to the students involved?
Three students have now either left the university or been expelled, with two banned from campus for 10 years and the third banned for life.
A further two students have been required to withdraw from the university for a year with immediate effect and have also received fines alongside a number of other disciplinary penalties.
Three more have received a range of other disciplinary penalties, including fines, while the final three of the original accused have been completely exonerated.
Who are the people in the group chat?
Ben Clements, Ryan Allison,
Tom Dignum and Josh Smith have all been identified by The Tab as being four of the students involved. They are all second years and a
part from Ben, who read Modern Languages, these men were History students.
Ryan Allison was the treasurer and secretary for the history society in 2017 and 2018, he made disgusting comments about a female student: "I reckon she should be fingered vigorously by her own dad to teach her a lesson".
Tom Dignum was also on the history society exec committee, holding the position of tour officer in 2017 and 2018. In response to people stealing his food, he said he was going to: "Rape the whole flat to teach them all a lesson."
No other students have so far been identified.
What has Warwick said?
A spokesman for University of Warwick said: "The University has concluded its investigation into two complaints about the alleged contents of a Facebook chat group involving a number of Warwick students.
"The allegations were extremely serious and concerned matters that have been found to be a significant breach of the university's Dignity at Warwick Policy which states: 'We are committed to ensuring a working and learning environment in which all University members (staff and students) are treated fairly and with dignity and respect, and where bullying and harassment are not tolerated'.
TRENDING
TRENDING CHANNELS
Ranking:
Articles: 9
Reads: 8048