Here's why 'Elizabethtown' is the best love story ever
Elizabethtown is a romantic comedy-drama starring Orlando Bloom and Kirsten Dunst - the perfect film to enjoy with your SO this Valentine's Day!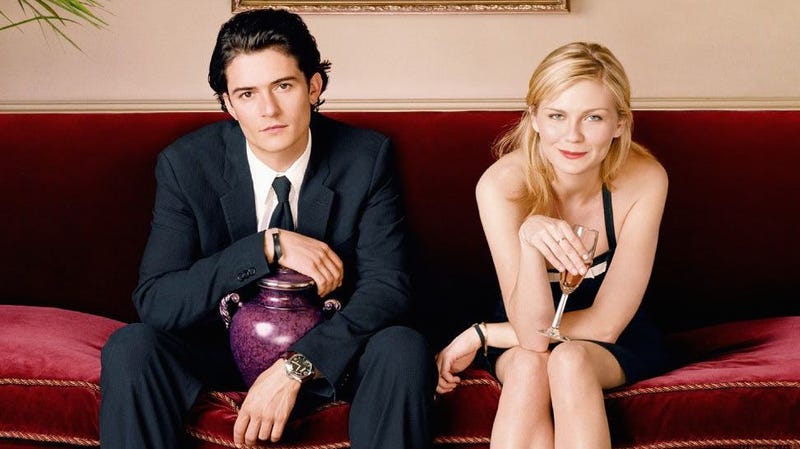 Image courtesy of Paramount Pictures
Drew (Bloom), a young shoe designer that has made a massive mistake in the design of a shoe, costing his company millions of dollars, is planning to kill himself. When his father dies while away in his old hometown of Kentucky, Drew has to fly all the way to Elizabethtown to arrange the funeral. On the way, he meets Claire (Dunst), a very optimistic flight attendant who eventually accompanies him through the process of dealing with his failure, his loss, and his extravagant small town family.
This is a love story about many different types of love. First and foremost, we have the obvious type: the romantic relationship between Drew and Claire, whose chemistry from the beginning will make you wish you were as lucky as them. Their love story feels so pure and innocent, with a perfect pace that makes it absolutely believable (which is something hard to achieve in a movie that happens over just a few days).
Article continues below...
More stories you may like...
There's also the love felt for a parent, and the hearbreak of knowing that they are gone forever. Throughout the movie, Drew realizes how much he loves his dad, and how much he is going to miss him. We accompany him in the very relatable roller-coaster that is losing a parent, and we get to feel his confusion, his shock, and his pain.
The film is also filled with the love of friendship and family. Drew is quite surprised at how many people loved his dad, and he himself learns to love and appreciate his family, overcoming the differences that divide them. Drew's mum (played by Susan Sarandon) also comes to terms with her husband's family in the end, in the most endearing and touching way possible. Eventually, their love for Mitch brings them all together.
And last but definitely not least, there's love for oneself. Drew has lost any faith in himself and secretly wants to end his life, but Claire teaches him the importance of getting up after falling, and that he needs to overcome his failure and keep going. Like she says, "Sadness is easier because it's surrender. I say make time to dance alone with one hand waving free."
Elizabethtown is such a wonderful movie. It is a simple film that portrays life as it is, a story about a bunch of characters so well-made that you'll feel like you've known them forever. It is so easy to like this movie, yet so difficult to describe why it is so great. The film makes you feel with the characters, and I guess that's what makes it so charming and entertaining. This film is very special, full of humanity and love. Perhaps the best word to describe it is bittersweet. Elizabethtown is so great that it will make you smile, laugh and cry, all at the same time. This Valentine's Day
is the perfect time to watch this wonderful love story!
TRENDING
TRENDING CHANNELS
Ranking:
Articles: 9
Reads: 10292