The style icons of the 90's
The 1990's were the decade of pop culture. We had Blur v Oasis, The beginning of Sex and The City and F.R.I.E.N.D.S, teen movies were at their very best and Donald Trump was not the president.
Despite all these huge moments we look back on, these days the most memorable part of the decade is, of course, the fashion.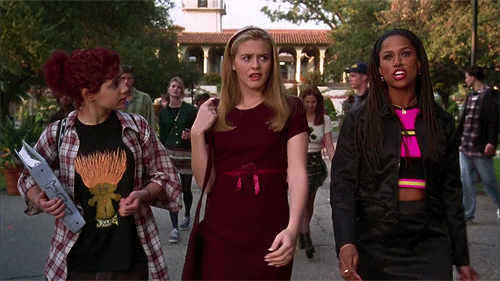 Leading on from the structured workwear and highly glamorous styles of the 80's, the 90's were much more anything goes. Each subculture had their own style and took influences from as far back as the 20's to the more recent 60's when it came to colour, styles, and fabrics. The 90's lead to the phenomena of the 'It Girl', before we had Alexa Chung, Kaia Gerber and The Hadid's we had the leading ladies of the 90's style revolutions.
It's been hard to narrow it down to just 6 women, but here's our list of the women whose style defined a decade, and who we still turn to for inspiration today, in 2018.
Jennifer Aniston
View this post on Instagram
Let's be honest, Jennifer Aniston is the 90's. Her character on F.R.I.E.N.D.S, Rachel Green is an international fashion icon, even over a decade since the show's last episode aired. Rachel has one of the most famous wardrobes in tv history, who can forget that plaid skirt and roll neck combo? The little green dress? The Knicks sweatshirt?
Jennifer Aniston wasn't just a style icon on-screen, off-screen she became a cultural phenomenon. Her choice of white shirt and light wash denim mom-jeans became a classic, and anyone who was anyone had their hair cut into the choppy layered 'Rachel' style. It's hard to pinpoint Jennifer's eclectic style, but as long as you've got a pair of mom jeans, a sports sweatshirt and some overalls… you're on the right track.
Knicks Jumper, £20, Topshop Mom Jeans, £19.99, H&M Overalls, £11.50, Forever 21
Julia Roberts
View this post on Instagram
Star of two of the biggest films of the decade, Julia Roberts, is an icon whose quintessentially on-screen 90's style still influences hoards of fashion influencers today. In Pretty Woman (1990) Julia's character Vivienne undergoes the ultimate on-screen makeover and arrives at the polo in a stunning light brown polka dot dress (white gloves and hat optional), which has spawned thousands of lookalikes on the high street this season.
View this post on Instagram
On the opposite (but equally stylish) end of the 90's spectrum, we have Julia as Anna Scott in Richard Curtis' smash hit Notting Hill (1999). Perhaps the most iconic of Julia's looks in the film is the moment in which her character first stumbles across Hugh Grant. Yes, the scene is very romantic and lovely and whatever, but what we're all looking at is her tiny sunglasses, a vinyl trench (M&S and Alexa Chung did a great vinyl trench a few years back and there are loads on Depop/eBay), beret, and platform old-school Vans. A look that we've seen everywhere this past year, on everyone from your local art student to Bella Hadid.
Polka Dot Dress, £20, Topshop Platform Vans, £59.99, Office Sunglasses, £10, Topshop
Kate Moss
View this post on Instagram
Article continues below...
More stories you may like...
Debuting on the cover of British Vogue back in 1993, Kate Moss was, undoubtedly, the British model of the 90's. Her style began a fashion movement labelled by the press as 'Heroin Chic' whilst that is not a trend that we condone taking inspiration from in 2018, other aspects of Kate's style are much easier (and healthier) to emulate.
Kate's style was and still is, all about simplicity. Her nonchalance and total lack of obvious glitz glamour in stark contrast to the 'Supers' of the 90's are what makes her so special. Her look back in the 90's was the slip dress, no matter the event Kate was always wearing a slinky, strappy slip dress. Her most famous look is the see-through slip she wore back in 1993 at the Elite Model Agency party. Kate has said she didn't realise the dress was see-through - but that's what makes it so iconic.
Black Dress, £35, Topshop Pink Dress, £19.99, H&M Mesh Dress, £12, Missguided
Alicia Silverstone
View this post on Instagram
You thought we'd do a fashion edit of 90's icons and not include the legend that is Alicia Silverstone? Ugh As If. As Cher Horowitz in Clueless (1995) Alicia has become a cult classic fashion icon, influencing everybody from Iggy Azalea's Fancy music video to more recently Versace and Michael Kors AW18. Who didn't want one of Cher's outfit picking computer devices that she used to make sure every outfit was picture perfect?
View this post on Instagram
When you think of Clueless you, of course, think of the yellow printed suit, but Alicia Silverstone was also a trailblazer in the trend of fluffy pink everything, tiny slip dresses and of course the black camisole layered over a white tee look that Cher wore for P.E - in the UK we had to wear baggy shorts and a polo shirt with the school colours - oh to have grown up in Beverly Hills.
Yellow Co-ord, Topshop (priced separately) Pink Crop Top, £18, ASOS T-Shirt, £15.99, Zara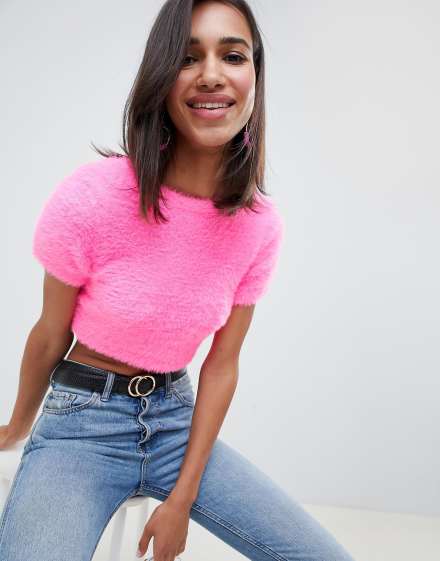 Winona Ryder
View this post on Instagram
Whilst ultra-feminine looks were a huge thing in the 90's, so was grunge. In contrast to the girly Grunge was a huge trend in the 90's thanks to Kurt Cobain and Nirvana who helped create the subculture in the early years of the decade. A woman at the forefront of the grunge trend is, of course, Winona Ryder, who we now know best for playing Will's mum in Stranger Things. Back in the 90's Winona was the Hollywood it girl, dating Johnny Depp (who got 'Winona Forever' tattooed on his arm) and starring in all the major blockbusters of the decade.
Winona Ryder's style was grunge meets gothic in all its glory. She very rarely wore colour, favouring black to match her midnight coloured hair. Ripped vintage band tees, dark-wash denim and of course a leather jacket are all 90's Winona staples.
T-Shirt, £15.99, Bershka Biker Jacket, £35, Missguided Mom Jeans, £40, Topshop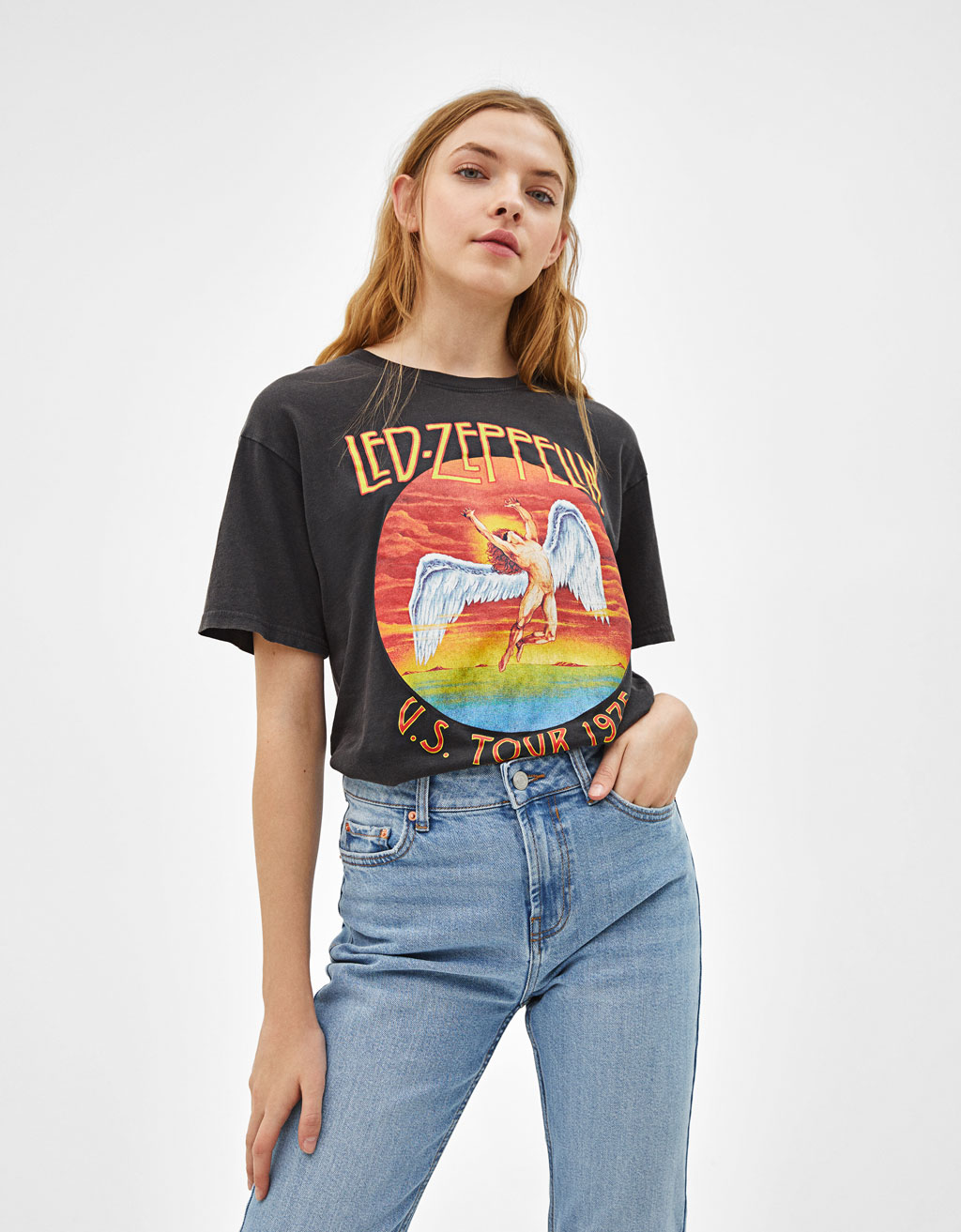 Claudia Schiffer
View this post on Instagram
We couldn't do a list of 90's fashion icons without choosing one of the supermodels of the decade. It's a tough choice choosing between Naomi, Linda, Claudia, Helena, and Cindy (to name but a few) but when it came to style Claudia Schiffer really does stand out among her peers.
View this post on Instagram
German model Claudia was a 90's Brigitte Bardotfavouring off-the-shoulder tops, huge earrings, and beehive hair. A wardrobe essential of Claudia's was animal print, her wardrobe was full of different prints. Leopard has had a huge resurgence recently, thanks to Instagram and cool girl brands such as Ganni and Realisation Par, but Claudia was rocking the look way back when. If it was leopard print, fluffy, pink, had a large in your face logo or metallic then Claudia was wearing it.
Skirt, £27, Topshop Jeans, £29.99, Zara Heels, £18, Pretty Little Thing
TRENDING
TRENDING CHANNELS
Ranking:
Articles: 9
Reads: 10174