EDIT: The Pastel Power Suit
Section sponsor:
Maybe it's the boss, or perhaps that new intern the secretary's been eyeing up since she got here - we're all subject to power-suit envy this SS season.
Sharp shoulders, carefully ironed creases and heels so regularly worn that they recognise the sound of the steps the second you enter a room.
You thought I was talking about menswear? No girls… this season's new power suit trend is all about you.
What's new you ask? Pastels darling, pastels. Primary and monochrome shades are great and all, but how often can you cop a suit that's both wonderfully trendy, and, well… lilac!
Whether you're spoilt for choice or feel intimidated by its boldness, allow this roundup to point you in the right direction and find a power suit as powerful as you.
Mango – Lilac Suit Blazer - £69.99:
Steal a page out of Tess Daly's style guide this season and get your hands on a suit that guarantees a subtle statement with maximum memorability.
Accessorise and layer up with similar shades for a look that fuses elegance and powerhouse all in one.
You could say it's sweet enough to wear Daly.
Zara – Yellow Double-Breasted Corduroy Suit - £22.98 (on sale now!):
See, as wonderful as it is to spend an afternoon searching fashion sites for edits, you have to accept the risks that come alongside it. The type of risk that sees your basket growing and six weeks wages gone in two clicks. Guess what I've just spent £22.98 on.
Corduroy? Yellow? Before you gag over the thought, take a good look at the tailoring and the versatility of such a gentle colour. And when you consider the
£97 reduction - well, I know where you'll be shopping this evening!
River Island – Pink Tweed Embellished Blazer and Shorts - £113: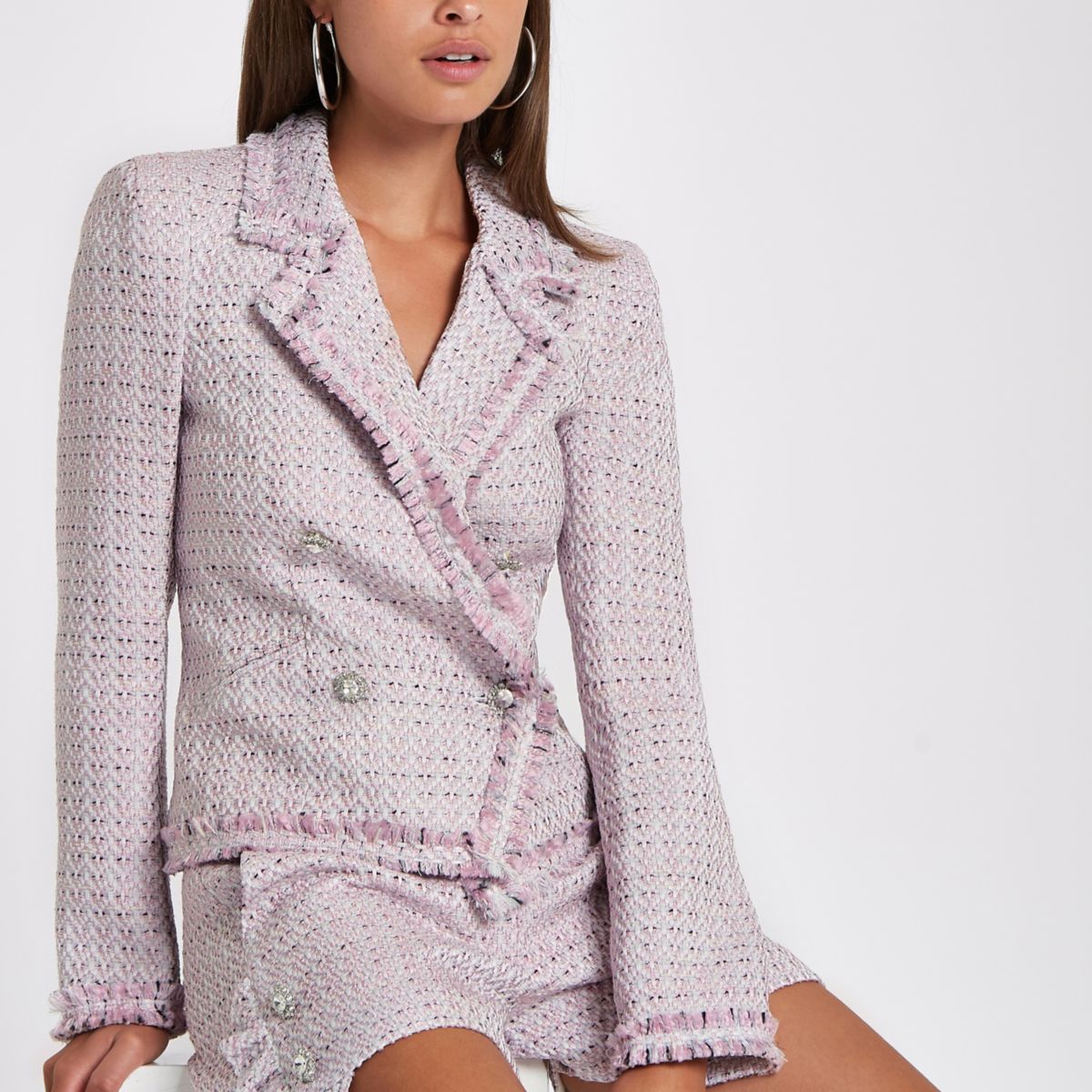 When you think of tweed blazers, you probably think of that weird neighbour that is never seen without Craghoppers and a brown scratchy jacket.
If you want to talk about the evolution of tweed, this suit deserves its own spot on the timeline. Feminine, summer-friendly and wonderfully ageless. I don't know who'd wear this better, me or my mum.
I literally want a relative to get married just so I have an excuse to order this masterpiece.
Miss Selfridge - Pale Blue Blazer and Shorts - £35 (on sale now!):
Holly Will
oughby has easily become one of television's most popular fashion influencers. As with every outfit she wears, viewers are always desperate to track it down and mimic the queen of morning TV.
Understandably, this adorable baby blue suit was instantly a hit, with news articles being written specifically to document the hype.
Article continues below...
More stories you may like...
Luckily for you guys, I managed to track it down for you, and with Miss Selfridge's summer sale well underway, this pastel power suit is the budget-friendly statement we've all been searching for.
River Island – Light Blue Button Trim Cigarette Trousers - £38.00: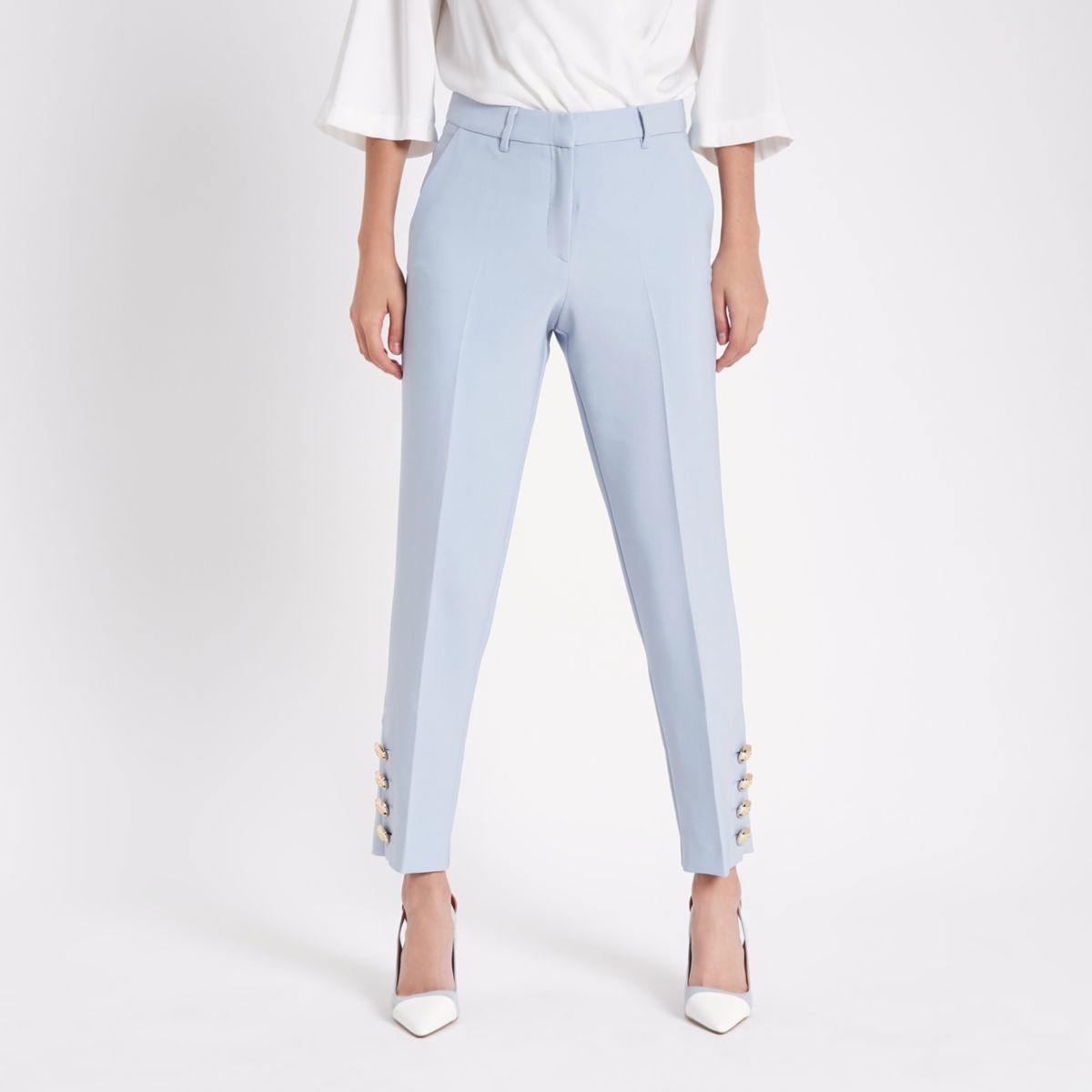 These trousers are the perfect hybrid between vintage and modern styles.
With big brassy buttons and a tight tailored waist, these trousers won't need a blazer to make a powerful statement. Don't forget, the sharper the crease, the sharper the look.
River Island – Grey Tie-Waist Tapered Trousers - £36.00: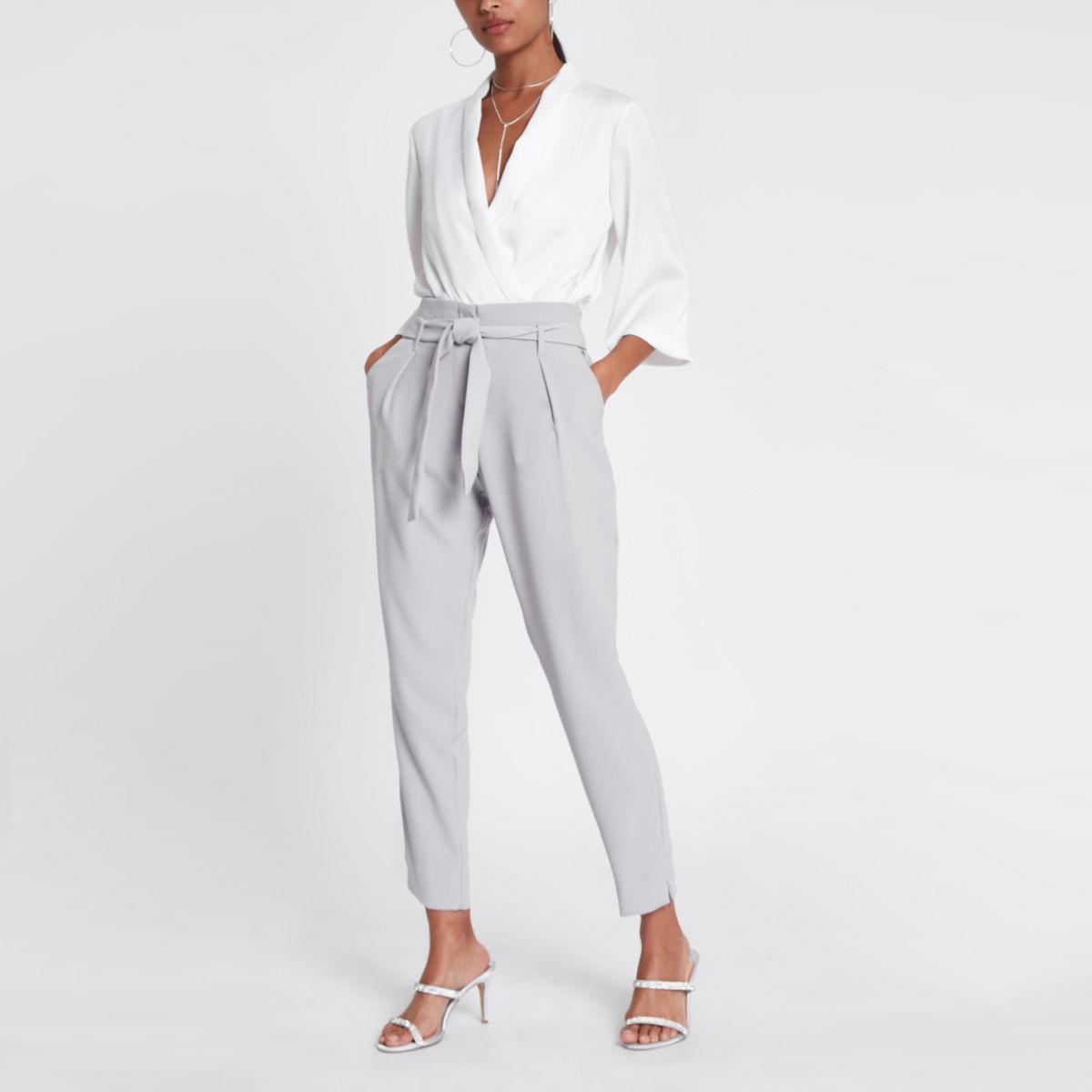 For me, the idea of tailored black trousers gives me flashbacks to secondary school and their obsession with bland shapeless uniforms.
It's pretty common for wardrobes nowadays to be dominated by black, so if you too shared the uniform blues, how else are you supposed to try out this new style?
If you're digging the power suit but colour isn't something you're too willing to compromise on, let me introduce you to pastel grey.
Offering a gentle fusion of your favourite monochrome shades and tailoring that screams confidence, it's unsurprising that tapered trousers like these are a big hit.
Oh and don't worry, no one's going to nag you to wear a tie this time.
Boohoo – Blue Stripe Tapered Trousers and Collared Blazer - £27.00
Business at the top, party at the bottom – It's the mullet of the modern wardrobe.
With a pinstripe blazer destined for Madison Avenue and high-waisted leggings that look killer with your favourite bulky sneakers, there's really no excuse not to introduce this to your summer wish list.
With streetwear continuing to increase in popularity, this trend-merging suit is perhaps the most inclusive version of all the power suits featured.
Missguided –Light Nude Cape Blazer - £35.00:
The modern feminine twist on classic workwear, and the perfect summer alternative to a heavy suit.
Whether styling with a midi skirt at the office or layered on top of your favourite LBD at dinner, the versatility of this blazer makes it an ideal staple this season.
Light nudes are always popular on the high street, making them especially handy for those wishing to take a softer step into the pastel trend.
Let's be honest, there's nothing more super than cape, right?
Which is your favourite? Let us know in the comments!
TRENDING
TRENDING CHANNELS
Ranking:
Articles: 35
Reads: 51808