EDIT: AW Season Sportswear
Earlier this month, The Guardian published an article about the recent athleisure boom which saw sales at JD Sports rise by more than 40%. So whether we call it athleisure, sportswear or gym gear, it's usually not about why you wear it, but what you're wearing and how you wear it.
However, as we head into the colder seasons, sportswear is increasingly being chosen for its practical heat-retaining features, rather than its authority and draw as a fashion statement. For those of you not prepared to compromise on your look this season, here are our seven stylish favourites for staying warm during your winter workouts!
Quarter-Zip Fleece Hoody – The North Face - £45.00
This season, athleisure styling is all about layers. Hoodies are super handy for staying warm
without
the added hassle of digging out your parka and dragging it around all day. With elasticated sleeves, an adjustable hood and a quarter-length zip, this fleecy hoody is designed to be draught-proof and to protect you from whatever the weather throws at you. Available in an earthy nude shade, this piece will coordinate with any seasonal wardrobe, with its simplistic design making it suitable for any style.
Element Running Fleece – Nike - £57.95
Working out in baggy vests is great for when your body needs space to sweat, but cooling down is soon to be the least of your worries. Tailored to fit the body in all the right places, this hoodie allows for breathability everywhere you'd need it, whilst keeping other areas covered and warm. Not only is this hoody great for those bitter morning runs, it's sweat-evaporating 'Dri-FIT' technology keeps you dry and the half zip allows for greater control over your body temperature and the ventilation it requires. Available in shades 'Tea Berry' and 'Black', it's the perfect piece to add to your winter collection.
Running NightCat Slick Beanie – Puma - £15.00
So apparently the idea that most of your body heat escapes from your head is a load of rubbish. However, as with the rest of your body, it is obviously important to keep your head warm too. This fitted running beanie is especially great for those with short hair as it provides an extra layer of warmth, without the risk of it being blown off your head like most fluffy beanies might. Perhaps the best part of this is its reflective detailing; an essential safety feature for those heading out for an evening run.
Reflective Print Padded Gilet – M&S - £45.00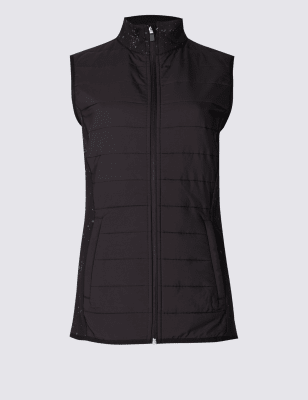 I remember a few years ago when Jack Wills took over from Hollister as the new cult brand and everyone had those quilted gilets. While the brand has since faded (as all hyped-up labels eventually do), the gilet has remained as a winter staple.
Article continues below...
More stories you may like...
Rather than heading into the debate over whether something that only covers your torso can be fairly labelled a 'body-warmer', I'll focus on what this will actually offer you. With a high neck and full-length zip, this gilet is great for regulating your temperature, while it's 'thinsulate technology' ensures that the cold will never be a problem. It's reflective splattered space-print design also provides far more than just a pretty detail. As daylight slips into hibernation, being seen has never been more important.
Run Knit Mix Tights – Adidas - £119.95
In the UK, it can be a struggle to wear shorts in the summer, never mind the winter. Lucky for us, the fashion market gets this. Light and skin-tight alternatives naturally enhance your performance by reducing the weight and resistance that slim joggers or baggy shorts would otherwise provide. Leggings such as these will allow your performance to be more aerodynamic, with the knit-mix material keeping your legs warm and draught-proof. While most sportswear centres on plain shades, adding a touch of colour to your gear can do more than just improve the look of your outfit. In this strange adaptation of the placebo effect, it really is true that if you feel good, you will often see an improvement in how you perform, whether that be a presentation to your colleagues or running your first marathon. With this - and the fact that these will never fail to dazzle - in mind, these running tights are a pretty good investment.
XcelWomen'ss Hooded Wetsuit – Magicseaweed - £359.99
Winter sports are not limited to the land, and water sports don't always offer the convenience of a heated indoor pool. For those prepared to brave the sea this season, you'll need a wetsuit that is as strong as you are. I won't pretend this is cheap, but a full body suit designed to protect you from some potentially life-threatening conditions is definitely a justified investment. With a watertight zip and well-sealed ankle and wrist cuffs, staying dry isn't going to be a problem. With temperatures plummeting in the late winter, the main challenge for open-water swimmers is keeping the body warm and flexible. Wetsuits vary in thickness, with a minimum of 5mm required for those confronting the cold. This
suit
provides a 6mm thickness and a tight hood to preserve your body heat. I won't bore you with a seemingly endless list of benefits provided by this wetsuit, but at least take my word when I tell you that if you're searching for the best that money can buy, this is a great place to start.
Thermal Half-Zip Running To – Karrimor - £22.99
I'd always assumed that layering three tops would be a more effective strategy for keeping warm than say one equally-thick jumper. However, after reading around I quickly discovered this simply wasn't the case. While the added weight of additional garments may make you think your body is better-insulated, it seems to layer isn't as efficient as we imagined. When it comes to exercising, weight and flexibility can be hugely important, and wearing one good thermal layer is far more aerodynamic than a tight vest-top and thick sweater. If this logic isn't enough to convince you to get your hands on some good light-weight thermals, let the stunning boldness of the purple body and neon orange zip try to instead.
For an in-depth look into the best hiking pants, visit Jen Reviews here.
Do you have any
must-have
sportswear for the winter? Let us know!
TRENDING
TRENDING CHANNELS
Ranking:
Articles: 25
Reads: 23957